This was Maggie's home for 10 long years: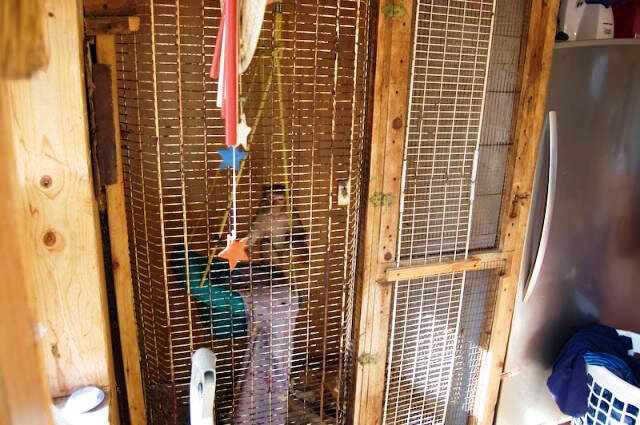 Because of lax exotic animal–protection laws, Maggie was purchased on a whim by a man who wasn't equipped to care for her. His elderly mother took custody of the monkey but wasn't able to care for her properly, either. So for 10 years, Maggie was confined to a cramped cage and fed french fries and other junk food. The woman had tried to find other living arrangements for Maggie several times without success. Finally, when the woman's homeowners insurance company threatened to cancel her policy, she became desperate to place Maggie in a better home.
Within days of being made aware of Maggie's situation, PETA arranged for two local supporters to transport her from her home in Indiana to the Primate Rescue Center (PRC) in Kentucky, where she could be evaluated, be treated, and begin the rehabilitation process. During the two-and-a-half-hour drive, Maggie clutched her pink blanket and gazed with fascination out the window of the car (vegetable oil–powered, no less!) at the passing scenery.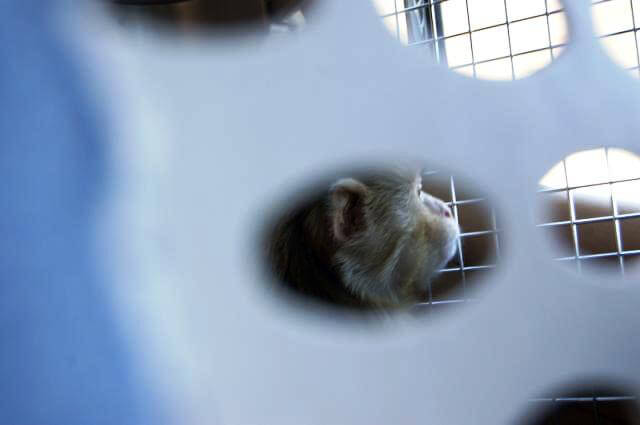 Upon her arrival at the sanctuary, Maggie immediately began treatment for histoplasmosis, a serious fungal infection, and chronic gastrointestinal disease. She was also suffering from depression after spending so many years in solitary confinement—she hadn't even laid eyes on another monkey since she was torn away from her mother more than a decade ago. Because her only psychological stimulation during her years in a cage was watching TV, she at first refused to eat unless a TV was on.
Maggie made huge progress at PRC, and once she was stabilized, she was ready for the final leg of her journey—the 17-hour drive to her permanent home at the Wildlife Rescue & Rehabilitation sanctuary in Texas. She arrived at the facility only recently, so she's still in an introductory enclosure while she gets her bearings. She was a bit shy at first, but she's extremely curious about the nine other monkeys who live in an adjoining enclosure. Already, she's enjoying eating fresh, healthy food—watermelons are her favorite. Once she's better acclimated, she'll move into the other monkeys' spacious habitat, where she can start being a monkey again (complete with dropping the name Maggie). There, she'll be able to climb trees and swim in a pool to her heart's content.
What You Can Do
Urge your state legislators to crack down on the trade in exotic animals. These animals are often casually purchased online or at auctions, only to spend decades confined to cramped cages in backyards, garages, and basements. Because most people who buy exotic animals have no idea how to care for them, the animals often suffer from vitamin deficiencies and other preventable illnesses. When the novelty wears off, people are left with nowhere to take the animals, since accredited zoos usually won't take discarded "pets." As a result, exotic animals are often abandoned, turned loose in unsuitable environments, or sold into even worse conditions where they're further exploited as "entertainment."