While some people in self-isolation are binge-watching Tiger King and making masks from underwear, others are posting pictures from their bathtubs. In a trending challenge sweeping the quarantined world, people are sitting in bathtubs to call out SeaWorld for imprisoning animals for life in the equivalent of a bathtub.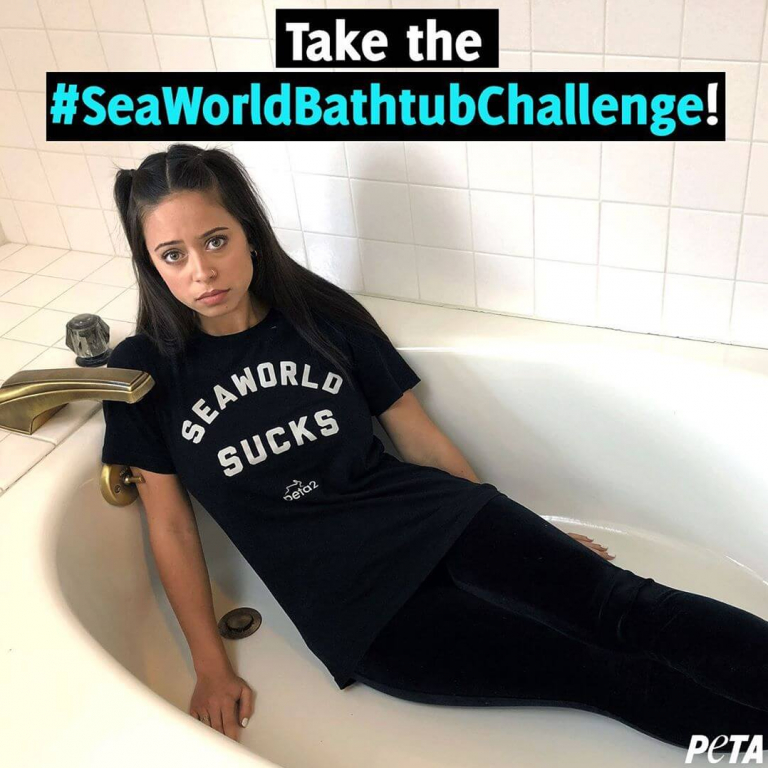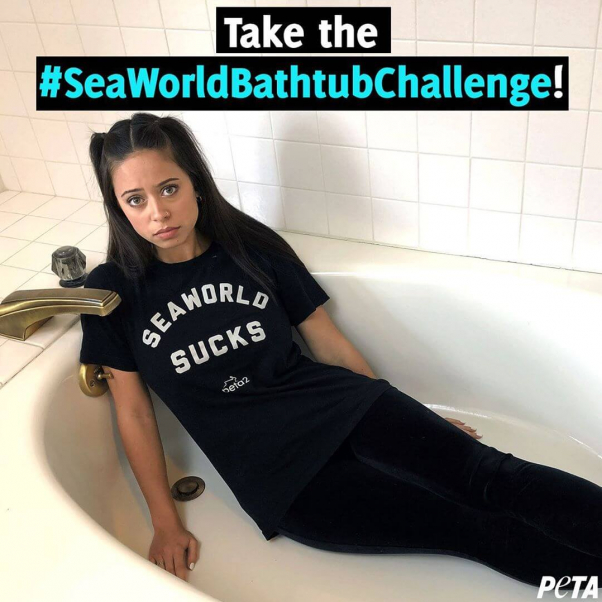 So while some of us might be going a little stir-crazy these days, that's nothing compared to the suffering of animals trapped at SeaWorld. Orcas there swim in endless circles and even break their teeth by gnawing in frustration on the concrete corners and metal bars of their cramped tanks. Dolphins are being impregnated, sometimes forcibly after being drugged, and 140 of them are packed into just seven small tanks.
Check out some of the creative ways people are using their bathtubs to speak up for the animals imprisoned at SeaWorld.
Strike a pose—there's nothing to it:
View this post on Instagram
Presentation is everything:
This bloodbath just took the challenge to a whole new level:
Have your animal companions join the challenge:
PETA's president shared a message from her tub:
Quarantining during the pandemic is nothing compared to living in the equivalent of a bathtub for your whole life.

Take the @peta #SeaWorldBathtubChallenge to speak out for orcas and dolphins held captive at #SeaWorld! pic.twitter.com/TL69WfEy5M

— Ingrid Newkirk (@IngridNewkirk) April 8, 2020
True to PETA fashion, this person bared all:
View this post on Instagram
Quarantines might suck, but living in a tank at SeaWorld sucks more:
Ready to take the #SeaWorldBathtubChallenge?
1️.   Post a photo of yourself in a bathtub with a short statement telling folks that being in quarantine is nothing compared to enduring a lifetime of imprisonment at SeaWorld. Here are some example captions:
I'm calling out SeaWorld during the quarantine because captive orcas and other dolphins are stuck in the equivalent of a bathtub ALL THE TIME.
For orcas and other dolphins in captivity at SeaWorld, quarantine is forever. They ALWAYS live like this.
This quarantine is nothing compared to the confinement that animals at SeaWorld endure.
2️.   For Twitter and Facebook, tag @peta and @seaworld and use the hashtag #SeaWorldBathtubChallenge. For Instagram, tag @peta and @seaworldorlando and use the hashtag #SeaWorldBathtubChallenge.
3️.   Tag people to take the challenge with you.
4️.   Share to your story or grid!
*****
Want to do more? Tell AAA to stop promoting SeaWorld: