Dozens of companies have cut ties with the sinking ship that is SeaWorld since the release of the documentary Blackfish. But despite knowing that the abusement park exploits orcas and is forcibly impregnating dolphins and whales, AAA is still promoting it to its members.
Help the animals languishing at SeaWorld's parks by urging AAA to end its relationship with the company NOW. Then, take the following actions:
Share this image on social media. Let your friends and family know that AAA supports animal abuse.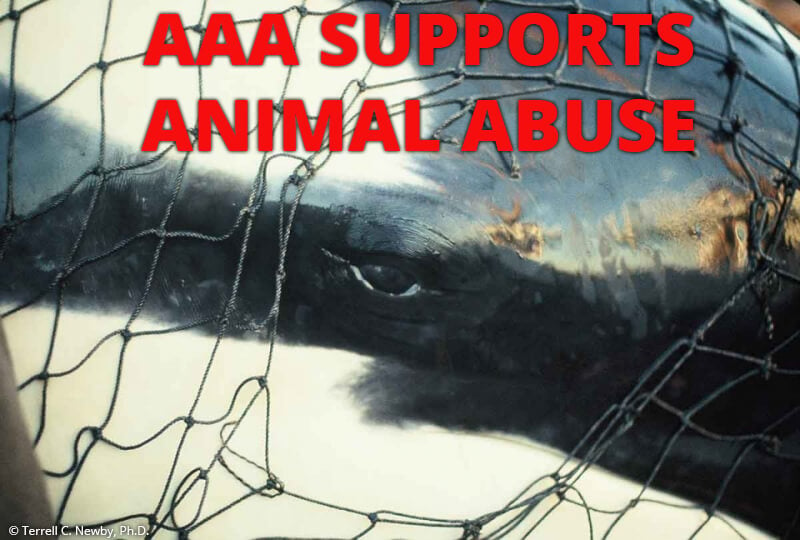 © Terrell C. Newby, Ph.D.
Contact AAA's customer service department on Twitter. Ask it why AAA is supporting a company that confines orcas to cramped tanks.
Contact AAA on Facebook. Let it know that supporting SeaWorld means supporting orca confinement, exploitation, and abuse.
Follow up with a polite call to AAA at 1-800-313-7245. Urge the company to end its affiliation with SeaWorld. And if you're a AAA member, please be sure to say so! (Note: AAA's office is open from 8:30 a.m. to 5:15 p.m. ET.) After you make the call, please let us know how it went. Your feedback is important to us.
By submitting this form, you're acknowledging that you have read and agree to our privacy policy and agree to receive e-mails from us.
Want to do even more? Check out PETA's iPhone app and never miss an action alert.