A mother's worst nightmare is for her babies to be taken away from her, but that's exactly what many mother bears endure when used as baby-making machines for roadside zoos. Yellowstone Bear World, Oswald's Bear Ranch, and Cherokee Bear Zoo all keep baby bears away from their mothers and exploit them as photo props or for bottle-feeding and cub-petting encounters with the public.
The bear cubs are torn away from their moms when they're just weeks old, sometimes before they even see their mothers, as bears don't open their eyes for the first four to six weeks. In nature, they would be in their mother's protective and nurturing care for up to two years. But they're denied that opportunity at roadside zoos, where the premature maternal separation can result in lifelong psychological distress and behavioral abnormalities.
The cub-petting industry tears families apart. Some bear cubs are shipped off to exotic-animal dealers or other roadside zoos, and some are forced to endure the groping hands of strangers while they want nothing more than to rest. When they outgrow their profitability, some are reportedly sent to slaughter, likely to make room for next year's cubs, and the cycle of abuse continues: More mothers and babies are traumatized, all so that humans can get photos with these sensitive cubs.
Take action below to urge Yellowstone Bear World, Oswald's Bear Ranch, and Cherokee Bear Zoo to stop exploiting bear cubs.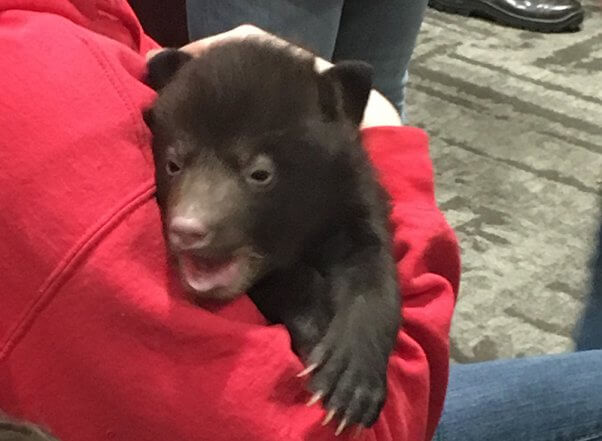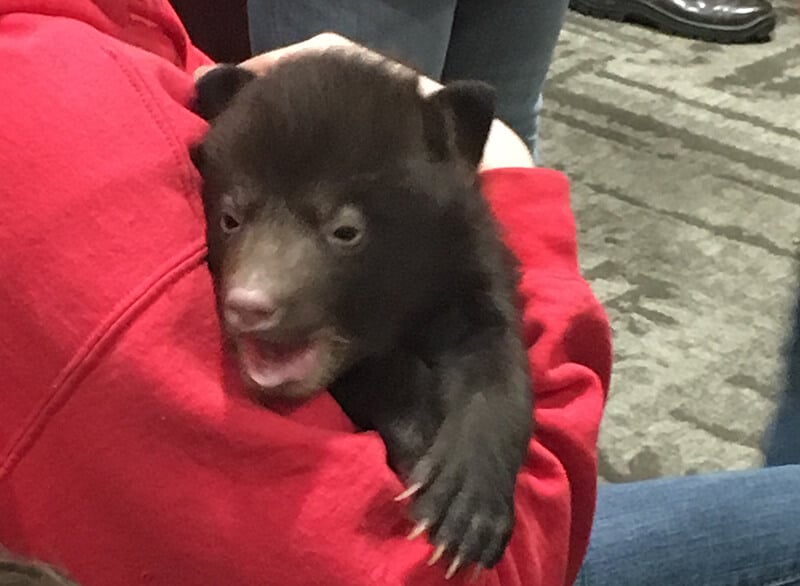 Yellowstone Bear World
Yellowstone Bear World in Idaho breeds black bears and forces their babies into public photo ops and bottle-feeding encounters. Some cubs have been taken away from their mothers forever and shipped across the country to other animal exploiters, including the infamous "Joe Exotic" of Tiger King. Yellowstone Bear World has also shipped 87 black bears, including three cubs in 2022, to the exotic-animal wholesaler Gregg Woody, who has sent dozens of bears to slaughter over the last two decades.
Urge Yellowstone Bear World to stop breeding bears and taking babies away from mothers—and to end cub photo ops and other public encounters:
Leave a Polite Message on Facebook
Post Polite Comments on Instagram
Oswald's Bear Ranch
Oswald's Bear Ranch in Michigan regularly purchases cubs who were torn away from their mothers, exploits them as photo props, and confines them to concrete-floored pens. The facility is apparently responsible for the deaths of more than a dozen cubs, two of whom—Peanut and "Pink String"—died when they were only a few months old.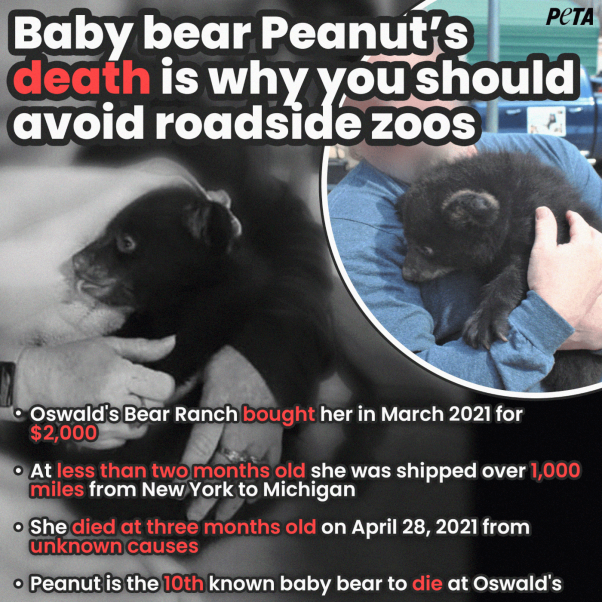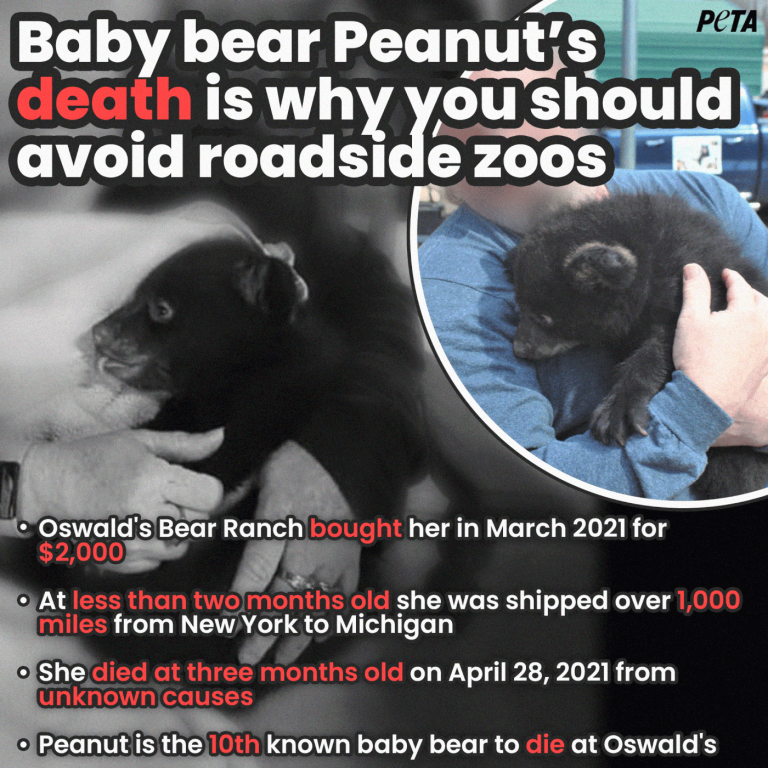 It's the industry norm for cubs to travel thousands of miles and, in some cases, to exchange hands multiple times. For instance, "Pink String" was born at Yellowstone Bear World, sent to Gregg Woody, shipped to Animal Entertainments Inc. (an exotic-animal dealer in Wisconsin), and then sold to Oswald's. These babies have to endure the danger and stress of being trucked thousands of miles from state to state at an age when they should still be with their mothers in their dens—they're barely able to walk on their own!
Please tell Oswald's to send the remaining bears to accredited sanctuaries before more die.
Post Polite Comments on Facebook
Post Polite Comments on Instagram
Send Polite Comments to Dean and Jewel Oswald
Cherokee Bear Zoo
Cherokee Bear Zoo in North Carolina imprisons bears in concrete pits, breeds them, and uses their cubs or acquires cubs from other disreputable operations for photo ops. When those cubs become too big to interact with humans, the roadside zoo either ships them off to other dingy facilities or relegates them to the same barren concrete pits that the older bears are in, where they have nothing to do but stare at the walls, pace in circles, and beg for food. Some of the bears suffer from early-onset arthritis and have been seen struggling to walk due to being forced to live on concrete. Bears belong in nature, where they can roam for miles, forage for a variety of food, and live happily with members of their family.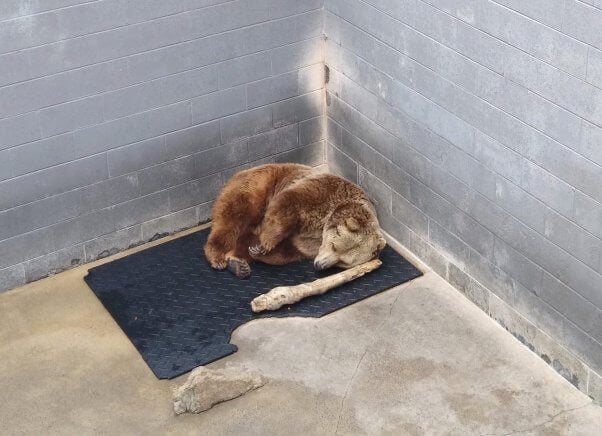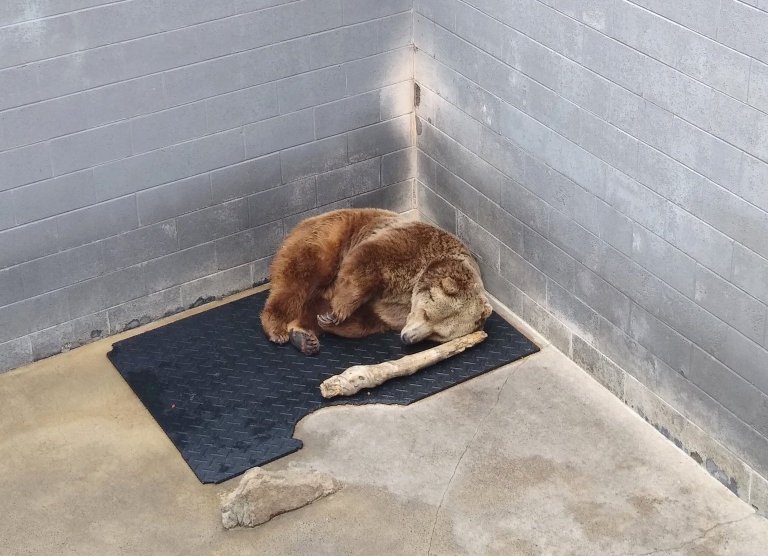 Mail a letter to Cherokee Bear Zoo owners Barry and Collette Coggins urging them to release all the bears to an accredited sanctuary where they won't be confined to barbaric pits and cubs won't be used as photo props:
Cherokee Bear Zoo and Exotic Animals
1204 Tsalagi Rd.
Cherokee, NC 28719
Please feel free to use our sample letter below, but remember that using your own words is always more effective.
Sample Letter
Dear Mr. and Mrs. Coggins:
Gigi, Coco, Sugar, Yogi, Leo, and all the other cubs didn't ask to be taken from their mothers, used as props for human entertainment, and then dumped into a concrete pit or shipped off to other roadside zoos. No animal deserves to be treated like this. These cubs should have been playing, exploring, learning, socializing, and bonding with their mothers.
Please end your practice of using cubs for photo ops and close the bear pits immediately. There's no excuse for confining bears to concrete pits that a district court judge found "archaic." They're miserable in these pits, with nothing to do but walk in circles and beg tourists for food.
Accredited sanctuaries stand ready to take in these bears. There, they could roam vast acreage, forage for their own food, and act on their natural instincts. They didn't choose to live in concrete pits, but you can choose to have a different business—one that doesn't profit from animals' suffering. The bears are depending on you to let them have a better life. Please allow them to go to an accredited sanctuary. Thank you.
Very truly yours,