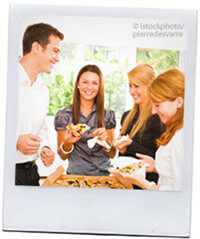 Welcome mobile subscriber!
Thank you for being a PETA mobile subscriber. We noticed that you were directed to this page from your phone. If you have an iPhone, why not use it to be a hero for animals—anytime, anywhere—at your convenience? Just download the free PETA iPhone app to take action on urgent alerts, keep up on news about animal rights issues, and donate to help animals.
Did you know that going meat-free just one day a week can improve your health, protect the environment, fight world hunger, and help animals? Amazing, right? And what better way to accomplish all of this (and more!) than by implementing Meatless Monday at your workplace?
Meatless Monday is a growing trend, and it's a great way to reduce your company's carbon footprint. It's also an effective way to spread the animal rights message. Many people have successfully led their company to join the Meatless Monday movement, and you can too! We will give you all the tools you need to implement a Meatless Monday campaign at your workplace. The more people who take part, the bigger the impact we will have!
Here's what you can do:
1.     Download the customizable Meatless Monday pack, which includes sample menus to deliver to dining managers, information about vegan food distributors and manufacturers, printable factsheets about the harmful environmental effects of meat production, customizable petitions that your coworkers can sign to show their support of adopting Meatless Mondays at their workplace, and printable "Meat's Not Green" leaflets. 
2.     Place the leaflets and factsheets around your workplace to encourage your coworkers to support the campaign and sign the petition to show their approval of implementing Meatless Mondays. Once you gather the signatures, show them to the administrators and the company decisionmakers so that they know that ditching meat one day a week is the best thing that they can do for their health and for the environment.
3.      Feel free to shoot us an e-mail if you have any questions. We'll do everything in our power to help you make a difference. We'd love to hear your story, so be sure to let us know how it goes! If your campaign is a success, we will send you your very own PETA T-shirt to honor all your hard work.
Best of luck with your campaigning!