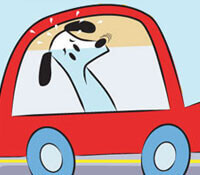 The dog days of summer are right around the corner. That means fun in the sun, but it also means rising temperatures, especially inside parked cars. We all like to take Rover along for the summer fun, but this can be a fatal mistake. Every year, countless dogs die from overheating inside parked cars. Dogs need you to speak up for them when the temperatures are rising and the car doors are locked.
On a mild 70-degree day (even a partially cloudy one), the temperature inside a parked car can reach 99 degrees in 20 minutes. Even leaving a dog for "just a minute" to run an errand can lead to heatstroke or even death. Luckily, these tragic consequences are entirely preventable. You can make the difference between life and death.
If You See a Dog Left in a Car …
Take down the car's color, model, make, and license-plate number. Have the owner paged in nearby stores, and call local humane authorities or the police. Have someone keep an eye on the dog. If the police are unresponsive or take too long to arrive and the dog's life appears to be in imminent danger, find a witness (or several) who will back your assessment. Take steps to remove the suffering animal, and then wait for the authorities to arrive.
Request your "Too Hot for Spot" online action kit now!
Be a dog defender and sign up to receive your "Too Hot for Spot" online action kit to help save dogs from deadly heatstroke!
By submitting this form, you're acknowledging that you have read and agree to our privacy policy and agree to receive e-mails from us.