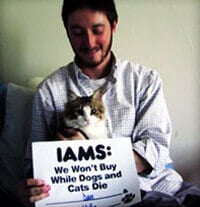 Do you have snapshots of a McCruelty demo, a circus protest, or a delicious vegan meal? We want all the animal rights photos you´ve got. Use the form below to send us your pics, and we´ll post them on our slideshow and the PETA Flickr page for everyone to see.
If you´re looking for inspiration, check out everyone else's photos. Then, send us your own! You can use the form below to upload your photos, or you can e-mail them to us. If you have a camera on your cell phone, text your photos to us at [email protected].
We´ll even show off some of the best shots on the PETA blog and guarantee you instant Internet celebrity!
By submitting this form, you're acknowledging that you have read and agree to our privacy policy and agree to receive e-mails from us.