All too often, "man's best friend" is sentenced to a miserable life of solitary confinement, trapped at the end of a chain.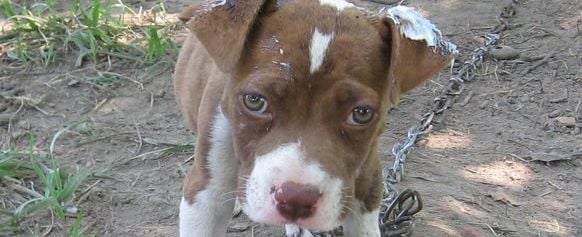 In order to raise awareness of these "forgotten" dogs, PETA has declared January "Unchain a Dog" Month, and we have just what you need to help a lonely, neglected dog in your neighborhood.
How You Can Help
There are two basic ways to improve the life of a "backyard dog":
Work with guardians to help backyard dogs in non-emergency situations. Begin by talking to guardians about what their dogs need. Check out some key points to discuss with the dogs' guardians here.
Call authorities if a dog's life is in immediate danger or if chaining is illegal in your area. You can check to see if your local ordinance is being violated. See PETA's list of such places or look up your local law at the library or on Municode.com.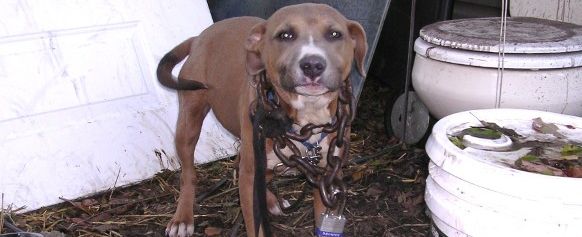 If You Want to Get More Involved
Educate your family, friends, neighbors, and coworkers about the suffering that chained dogs endure.
Find out if your community has a chaining ordinance. If so, think about ways it could be made better. For example, a ban on chaining is preferable to a time limit on chaining. Similarly, longer tethers are preferable to shorter ones. See our booklet discussing the need for chaining laws.
Make an appointment to meet with your local county commissioner or city councilmember to discuss dog chaining in your community. Don't know where to start? Give us a call (757-622-7382) for help!
Encourage your family, friends, neighbors, and coworkers to call, write, and meet with their local representatives to ask for a dog-chaining ordinance.
Many neglected dogs' lives have been forever changed because someone cared enough to offer to take them for a walk or give them toys and treats and some much-needed love. You can be that someone and make a world of difference for dogs like Ringo and Julie. Remember: The best way to help chained dogs is to work with city or county legislators to ban chaining, and PETA has the resources to help you get started.
Want to continue to help animals in need? Join our Action Team and speak up for companion animals. Be sure to share this information with your friends and family on Facebook and Twitter.