Pins, leaflets, buttons, and tees are all great ways to show off your pride and passion for animal rights, but these PETA activists went above and beyond with their audacious banner hangs. Check out some of the best photos of PETA banners that have graced freeways and highways over the years and get inspired to speak up for animals.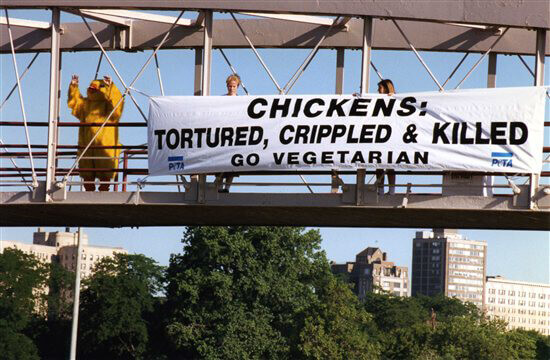 Broken bones, extreme bruising, cut throats, and hemorrhaging are just some of the horrors chickens face at slaughterhouses. To reveal this shocking truth and help chickens, two PETA activists and a giant "chicken" took to the streets (and bridges)!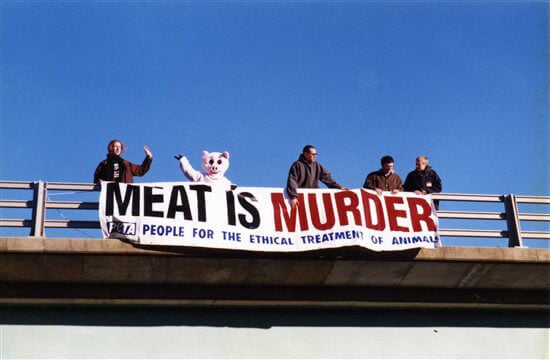 A proud PETA "pig" is joined by compassionate activists to urge commuters to ditch meat.
Every year, animals are beaten, bludgeoned, and skinned alive for the fur industry—all for the sake of fashion. This duo hung a banner to show people what's left after animals are skinned for their fur.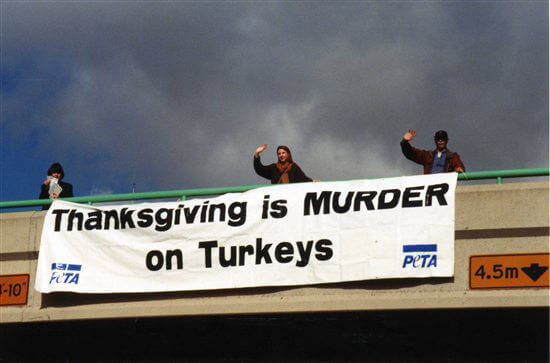 Millions of turkeys die every year for holiday meals, so these Tofurky lovers set out to save a few birds during the holiday season.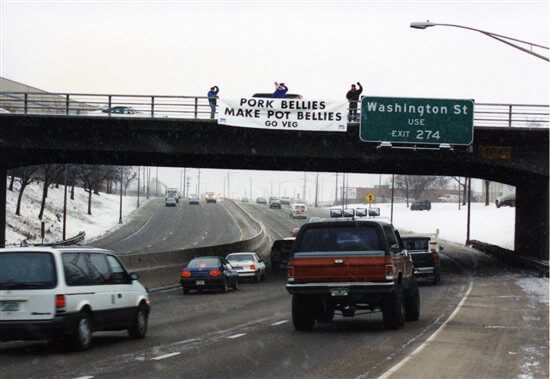 A trio of activists braved the cold and snow to urge drivers to go vegan for their health and their waistlines. On average, adult vegans weigh 10 to 20 pounds less than adult meat-eaters!
We even enlisted the help of cartoon animals to convince passersby to eat healthy and save the lives of animals. Why should you eat more veggies? How about helping to avoid some of the leading killers in America such as heart disease, cancer, obesity, and strokes—all of which are directly linked to meat-based diets.
Primates are very similar to humans, yet every year in the U.S., more than 124,000 of these  intelligent, sensitive animals are abused and killed in invasive, painful, and terrifying experiments. Thanks to hard-working activists like the ones pictured, the U.S. Army ended its cruel experiments in which monkeys were poisoned with a drug overdose that made them suffer from violent seizures.
Spread the word and share these great photos with your friends and family. As always, before planning a demonstration (or a banner drop or other action), be sure to check with your local officials to make sure that banner drops are legal in your town and that no permit is needed. If you're inspired to take action for animals, join PETA's Action Team today!