Canada Goose is attempting to humane wash its image—don't let it get away with this. The company has launched an initiative that's supposed to make consumers think that it cares about the suffering that animals endure in its supply chain, even though it continues to sell fur stolen from trapped coyotes …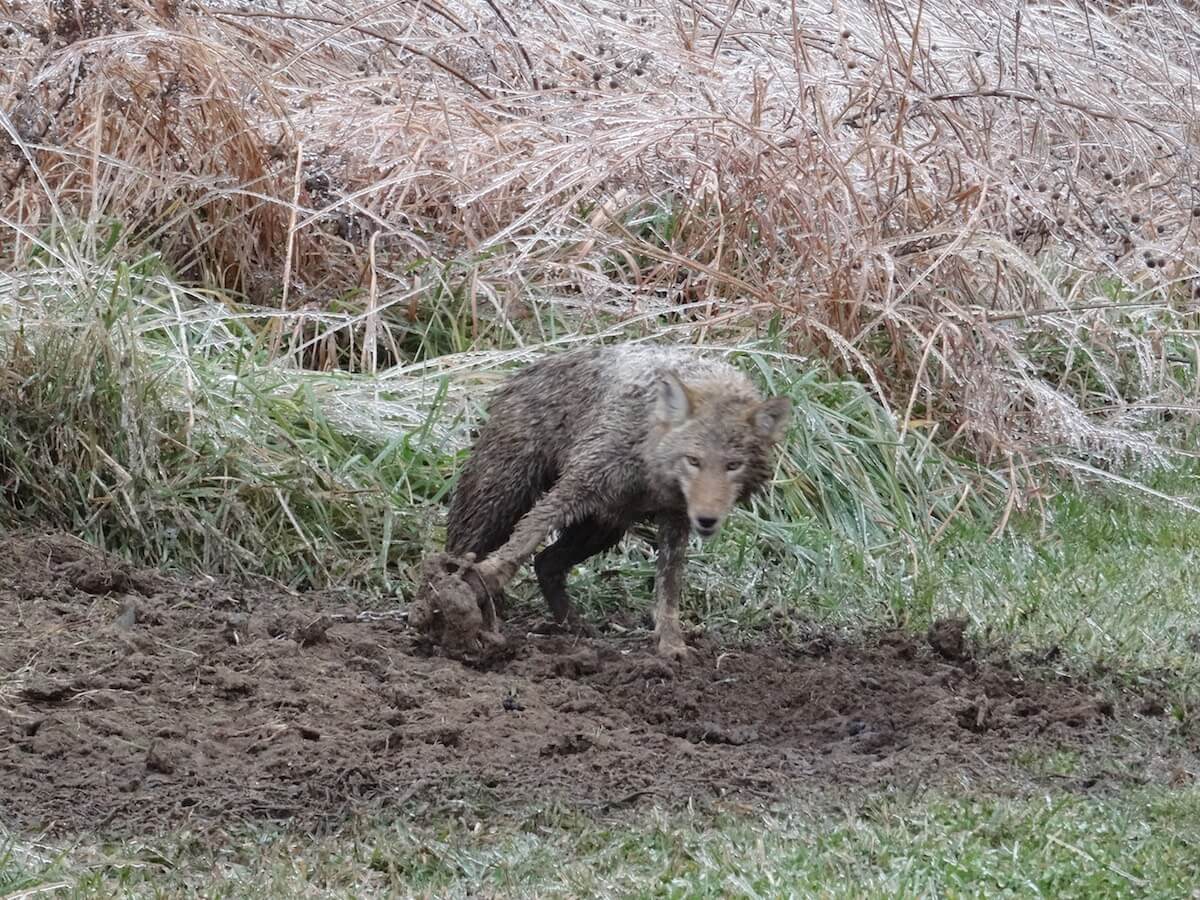 © Born Free USA
… and feathers from slaughtered birds.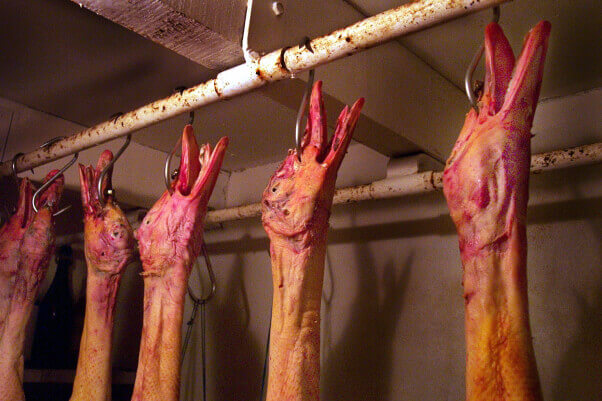 © StopGavage.com
Fur and down are always products of cruelty.
It's our responsibility to speak up for these animals. Urge Canada Goose to stop exploiting animals for clothing:
1. Organize a protest with free supplies from PETA.
Alert your friends, family, and social networks to join you outside a Canada Goose store or a store selling the company's fur-and-feather jackets. Hold posters, wear masks, and hand out leaflets. Make sure you obtain a permit if necessary (you can phone your local authorities to ask if one is needed) and review the key steps to holding a successful demonstration.
2. Pass out leaflets in front of a Canada Goose store or a store that sells Canada Goose products.
Leafleting outside these stores can have a huge impact on both shoppers and the company. Let us know how many leaflets you need along with your full name and mailing address. See our tips for easy and effective leafleting.
3. Contact all stores in your area that sell Canada Goose items and ask them to reconsider the decision to stock them.
You can google "Canada Goose retailers near me" to find their contact information. Either ask for a manager or talk to whomever picks up the phone. Tell them your name, and say that you're calling from the area so they know you're local. Feel free to use the following talking points:
Coyotes are caught in barbaric steel traps and can suffer in pain indefinitely with mangled, bloody legs before being killed and skinned. Their fur is used for clothing like the trim on Canada Goose's jackets. Mother coyotes have even been known to try to chew through their legs in order to get back to their starving pups.
There's no such thing as "ethical down." Ducks and geese used for down are typically shipped in all weather extremes to slaughterhouses, where they're stunned, their throats are cut, and they're dunked into scalding-hot defeathering tanks.
4. Text FEATHER to 73822.
Using your mobile phone, text* FEATHER to 73822 to send a message to Canada Goose's CEO urging him to end the company's sale of fur and feathers from coyotes and birds who were violently killed.
5. Comment on Canada Goose's social media accounts.
Comment on the company's posts, asking it to have a heart and stop profiting from the violent deaths of animals by ditching fur and down immediately.
6. Tweet Jodi Butts, a director on Canada Goose's board.
Let her know that any claims of "ethical sourcing" are bogus:
7. Call Canada Goose's customer service.
Call 1-888-276-6297 (then press 1) and urge the company to stop making clothing out of animals' stolen fur and feathers.

Choose the actions that work best for you, and get started today!
A lot of us
need to get loud if we want to make a difference for coyotes and birds. Informing the public while demanding change from the company is the best way to do so.
Take Action Now to Urge Canada Goose to Ditch Fur and Down
*Message and data rates may apply. U.S. only. Text STOP to end and HELP for info. Periodic messaging. Full terms are available at: http://peta.vg/txt.