Update: Coffee drinkers, rejoice! Silk Dairy-Free Creamer Single Cups are here, and they're going to be a game changer in restaurants and coffee shops and even on airplanes (maybe even sooner than you think). Shelf-stable for months, these individual creamer servings are vegan, gluten-free, and cholesterol-free. They also contain no artificial flavors or coloring and have zero grams of saturated fat. They should start appearing in retail settings in August.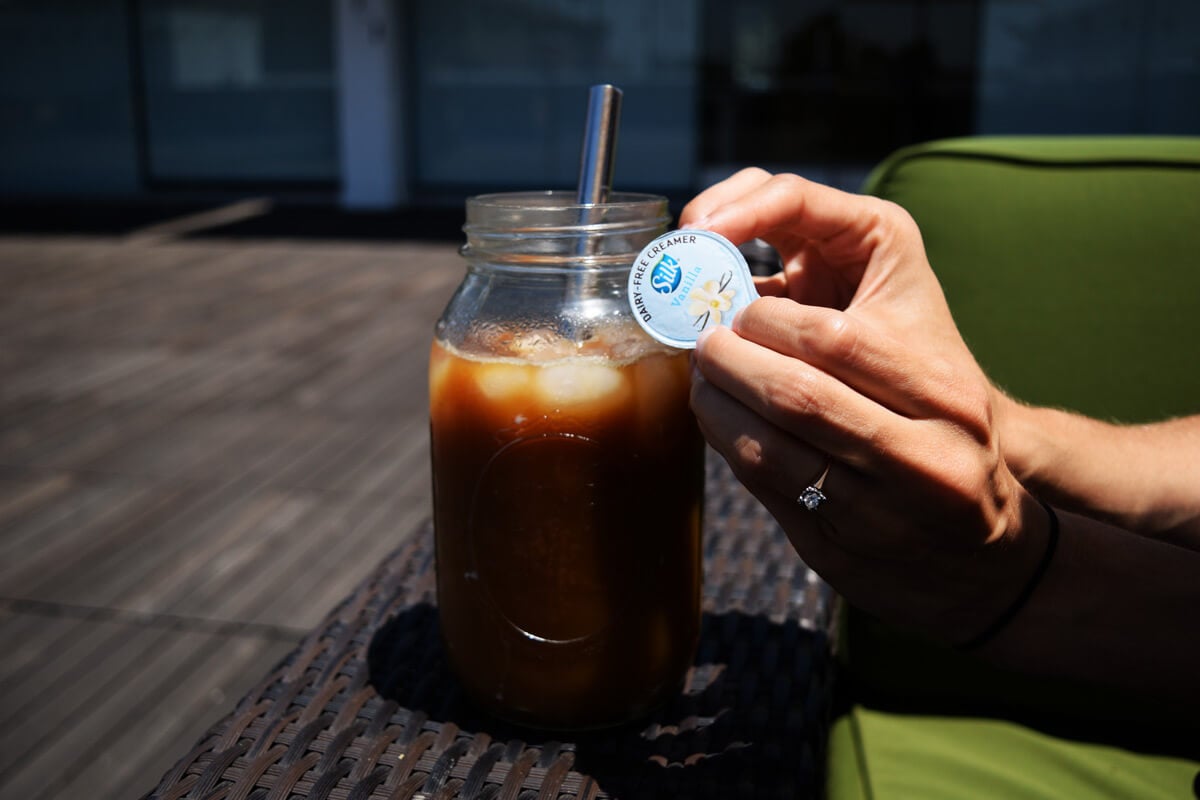 Written by Tiffany Rose
The alarm goes off at 4 a.m. for your 7 a.m. cross-country flight. Disheveled, you stumble to the bathroom, run a toothbrush across your teeth, apply pink lipstick (just me?), and toss your toiletries into your bag. Ironically, there's no time to make coffee, so you tell yourself that you'll caffeinate on the plane. Checked in, through security, and seated on the plane, you salivate as you see the drink cart being wheeled down the aisle. Coffee, finally! As the flight attendant sets down your cup, you politely request vegan creamer, only to discover that the airline doesn't offer a dairy-free alternative! How is that even possible?!
Given the number of people who are concerned about the environment, their health, their religious beliefs, and cruelty to animals, vegan options are becoming available everywhere today—except on most major airlines. Help them to get on board by tweeting them your request for vegan creamers (and other vegan items).
Virgin Atlantic is the first airline to meet consumer demand by offering a soy beverage on all its flights, and Canada's largest rail service—Via Rail—now offers soy milk to its guests, too! Help other companies get on board by sending them a tweet requesting vegan creamers (and other animal-free options).
Below is a list of some of the airlines that need help with their vegan take-offs, along with suggested tweets that we've written for you to make it even easier. Feel free, of course, to write your own if you'd prefer. If the airline that you use isn't listed, tweet at it to ask about its vegan options.
American Airlines
Love that @AmericanAir has soy creamer in the Admirals Club, but it should be in-flight, too! Can you please add #vegan creamer to EVERY American Air experience? ☕️


Delta Air Lines
I need my in-flight coffee @Delta, but I can't do black. Please add nondairy #vegan creamers. ☕️

Frontier Airlines
Flying @FlyFrontier would be SO much better if it offered nondairy #vegan creamers for coffee during flights.


Southwest Airlines
Wish @SouthwestAir would have some #SouthwestHeart for cows and add #vegan creamer to the in-flight menu. ❤🐮

Sun Country Airlines
I really wish my #SCAGetaway could include #dairyfree creamer in my coffee! @SunCountryAir, please add it to the menu so those of us who don't use dairy can indulge, too! ✈☕️

Before your trip hit us up at [email protected], and we'll send you PETA's vegan starter kit to leave in the seatback pocket for the next traveler.
Have a safe and compassionate flight!