"Turtle-racing" typically involves abducting turtles from their homes in nature, confining them in severely crowded conditions, giving them food they wouldn't normally eat, and releasing them—often irresponsibly—once the cruel events are over. During the races, human participants make loud noises to frighten the already traumatized animals in an effort to make them move faster. Turtles only move quickly when they believe their lives are in danger—and there's an extraordinarily high mortality rate among these victimized individuals due to overexposure to heat, a poor diet, severe crowding, improper substrate, and a high risk of infection due to being handled by humans and improper housing conditions. Humans are also at risk since handling turtles can result in contracting zoonotic diseases, such as salmonella.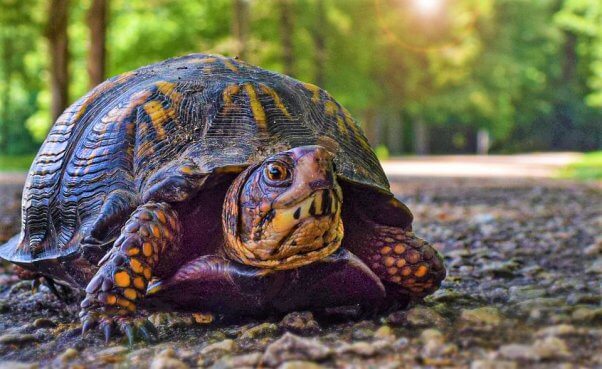 Turtles who manage to survive this ordeal are not always returned to the exact spot where they were captured, which decreases their likelihood of survival. According to experts, up to an estimated 80% of relocated turtles die due to stress caused by unfamiliar environments or exposure to diseases and parasites to which they aren't naturally immune. And turtles are extremely attached to their homes, so, sadly, survivors are likely to wander indefinitely in search of them.
Please politely urge the event organizers and officials in the following three cities to scrap turtle races and leave these animals in peace.
Longville Chamber of Commerce Facebook
Longville Chamber of Commerce
[email protected]
218-363-2630
City of Perham Government Facebook
Perham Area Chamber of Commerce
[email protected]
218-346-7710
Leah Monson, Marketing and Administrative Assistant
Perham Area Chamber of Commerce
[email protected]
Nick Murdock, Executive Director
Perham Area Chamber of Commerce
[email protected]
Dan Schroeder, Sales
Perham Area Chamber of Commerce
[email protected]
Nick Theroux, Accounting
Perham Area Chamber of Commerce
[email protected]
Nisswa Chamber of Commerce Facebook
Nisswa Chamber of Commerce
[email protected]
218-963-2620