Update: October 5, 2021
Great news for animals: National Institutes of Health (NIH) Director Francis "Blind Eye" Collins is leaving!
The ink wasn't even dry on the lease for the Capitol Hill campaigns office that PETA planned to use to escalate our campaign for Collins to be replaced at NIH because he had turned a blind eye to the failure of animal experiments. Today's news that he has resigned brings hope for animals and the agency that he turned into a bureaucratic dinosaur.
It's crucial now that President Joe Biden find a leader who understands the bigger picture: that protecting human health, securing our country's role as a leader in innovation, addressing disparities within the scientific community, and preventing the next pandemic have everything to do with eliminating our reliance on animal experiments and prioritizing human-relevant, animal-free research.
In July, PETA urged Secretary of Health and Human Services Xavier Becerra to fire Collins and seek a new NIH director, citing the NIH's disproportionate funding of animal experiments that fail to lead to treatments or cures for humans. Our letter reads, in part, as follows:
Even as scientific evidence has mounted on the failure of animal experiments to produce cures and treatments for humans and also on the sentience of animals, the agency has failed to heed this evidence and has continued to waste public funds on cruel and failed experiments. NIH's own animal laboratories serve as a poster child for abusive, deadly, and useless experiments—and this has been going on for years under Collins' watch. For the sake of animal welfare, sound science, public trust, and the U.S.' position as a global leader in biomedical research, we ask that you please consider replacing Collins with a more competent, forward-thinking director.
PETA's president also protested in front of Collins' home, calling on him to resign. We published a high-profile opinion piece that ran in the Miami Herald and other newspapers demanding new leadership; ran full-page ads in Washington, D.C., media outlets stating, "Francis Collins Must Go"; urged our supporters to call for his resignation; and flooded Instagram and Twitter with the hashtag #FrancisCollinsMustResign. PETA's Kathy Guillermo also appeared on Tucker Carlson Tonight calling for a new NIH director who will embrace modern science.
Again and again, PETA has exposed abuse and shoddy science at NIH, including three decades of experiments in which baby monkeys were torn away from their mothers and tormented to create mental illness. This laboratory was shut down in 2015 following an intense two-year PETA campaign. In 2020, we released never-before-seen video footage from the laboratory of NIH experimenter Elisabeth Murray, who damages the brains of monkeys and then terrifies the animals with realistic-looking plastic snakes and spiders.
In July, PETA released federal documents revealing multiple animal welfare violations inside NIH laboratories. Animals died of dehydration, starvation, and asphyxiation and were burned on heating pads, denied pain relief, and more.
Collins often refused to comment on these issues or take action until forced to do so by public pressure. He similarly refused to address the growing concern over the failure of animal experiments to lead to treatments for humans or to respond to tens of thousands of e-mails from Americans urging him to adopt PETA's Research Modernization Deal, which documents the failings of animal studies and provides a strategy for phasing out the use of animals and increasing funding for modern methods.
Please urge your legislators to do better and support PETA's Research Modernization Deal:
---
Original post:
PETA is calling the director of the National Institutes of Health (NIH) Francis "Blind Eye" Collins, and he must resign.
U.S. taxpayers shell out billions of dollars every year to fund NIH, expecting the agency to pay back their investment with urgently needed treatments and cures. Here's what taxpayers get instead: NIH's continued reliance on failed animal experimentation and negligence, cruelty, and repeated violations of federal law in the agency's own animal laboratories. Collins has served as the director of NIH since August 2009.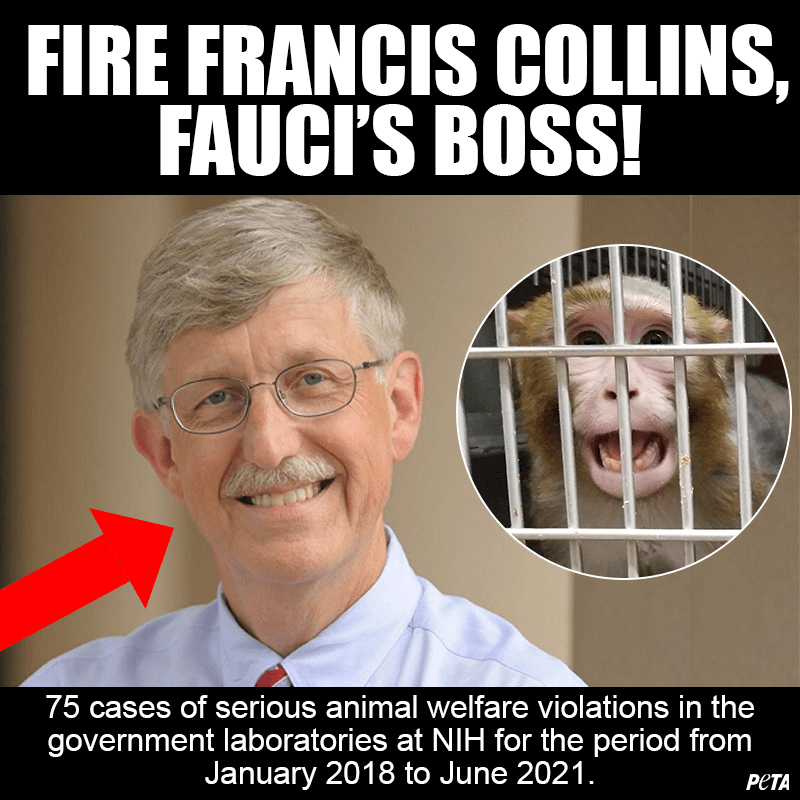 Episode #184: To End NIH Animal Tests, Dr. Francis Collins Must Resign
From January 2018 to June 2021, 75 cases of serious animal welfare violations were documented in NIH's Maryland laboratories. Animals suffocated, starved, and died of dehydration. They were injected with the wrong drugs and subjected to unapproved procedures. They became entrapped in parts of equipment and died while frantically struggling to escape.
One mouse burst into flames when experimenters failed to notice that alcohol fumes had built up during heat-generating electrocautery surgery. Another suffered for days, listless and emaciated, after a veterinarian recommended prompt euthanasia but an experimenter failed to carry it out.
One monkey under anesthesia sustained a large, blistering burn to his abdomen when an experimenter incorrectly placed a heating pad directly on his skin. Four others became so dehydrated when inattentive staff failed to notice a disconnected water line that they had to be given fluids through an IV. A female owl monkey lost 20% of her bodyweight and was severely anemic but wasn't provided with veterinary care and died in her cage.
Dogs were used in a septic shock study that was suspended after experimenters deviated from the approved protocol, including by using sutures that caused infection.
The horror show goes on from there, and it doesn't get any prettier.
For years, Collins has turned a blind eye to this gruesome spectacle that he oversees—and to the fact that precious few treatments or cures have come out of his kingdom of suffering. Even as scientific evidence of the failure of animal experiments to produce cures and treatments for humans has mounted, the agency has continued to waste public funds on cruel and failed experiments.
In its strategic plan for 2016 through 2020, NIH acknowledged that "animal models often fail to provide good ways to mimic disease or predict how drugs will work in humans"—yet Collins continues to squander nearly half the agency's budget on this pseudoscience year after year.
Collins has been at the helm of NIH's sinking ship for more than a decade, and he's shown himself unwilling or incapable of steering it toward modern, human-relevant research. If the U.S. is to maintain its position as a world leader in research, NIH must change course now—with a fresh, innovative new captain at the helm.