Bhagavan "Doc" Antle operates Myrtle Beach Safari in South Carolina, a roadside zoo where infant animals are torn away from their mothers so that they can be passed around for highly profitable public encounters, routinely treated as props for publicity stunts, and exploited for "likes" on social media.
Antle is a key player in the animal exploitation industry, an alleged wildlife trafficker, and one of the villains featured in Netflix's Tiger King. He is known to boast that Myrtle Beach Safari's premium prices for a chance to take photos with infant wild animals somehow fund conservation efforts, but this is all part of a carefully scripted performance. No true animal sanctuary or legitimate conservation organization exploits endangered animals in cruel public encounters, nor would doing so conserve their wild counterparts.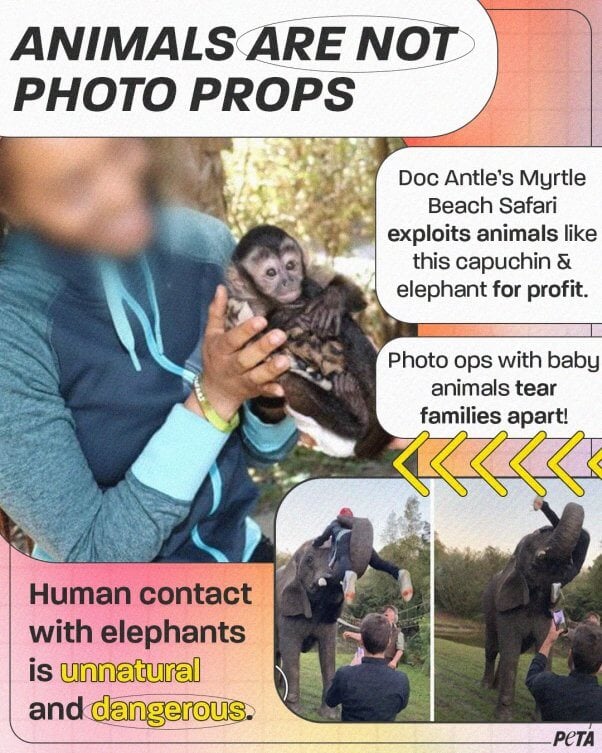 Antle is a confident trickster who could rival P.T. Barnum himself in his ability to exploit the defenseless for his own financial gain. His greedy roadside zoo forces Bubbles, a female African elephant, to endure photo ops and languish alone. Even though female elephants stay with their families for their entire lives in nature, Bubbles hasn't had contact with another elephant in over 30 years. Depriving wild animals of their inherent right to live and grow among their own families is business as usual for Antle. Myrtle Beach Safari regularly exploits baby animals who've been torn away from their mothers––including many species who naturally stay with their families throughout their lives, such as chimpanzees, monkeys, hyenas, and wolves––in stressful public photo ops. Treating animals as though they were nothing more than commodities to trade is a form of speciesism, a human-supremacist worldview.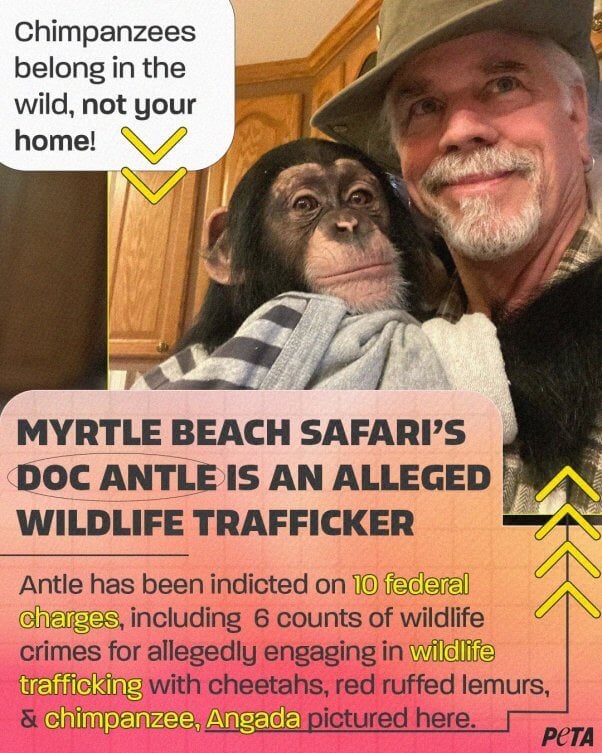 In June 2022, the FBI arrested Antle, who was later indicted on 10 federal charges, six of which include wildlife crimes involving cheetahs, a chimpanzee, and red ruffed lemurs. This case could result in the transfer of these animals to accredited sanctuaries. In the meantime, please urge Myrtle Beach Safari to end its cruel public encounters and send all the animals to reputable facilities where they could live in peace and get the care that they deserve.
Send polite comments to:
Bhagavan Antle
[email protected]
Comment on posts featuring wild animals on Myrtle Beach Safari's Instagram, Bhagavan "Doc" Antle's Instagram, and Kody Antle's TikTok feeds. This important step will help inform others.
Please feel free to use our sample letter, but remember that using your own words is always more effective.