While animal-exploiting businesses such as Ringling Bros. and Barnum & Bailey Circus continue to shut down and animal-free shows such as Circus Vargas are thriving, Jordan World Circus continues to work with notorious animal exhibitors who use intimidating and often violent methods to force animals to perform confusing tricks.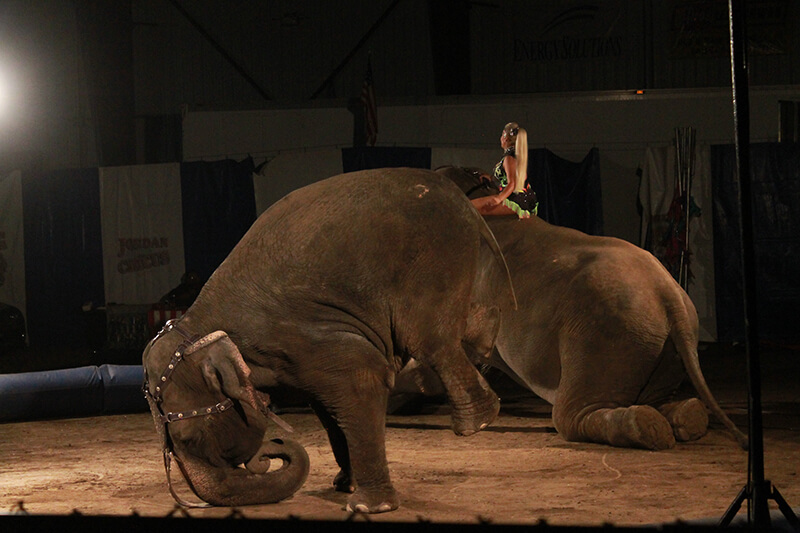 Larry Carden supplies elephants Betty and Bo for this circus despite a history of animal welfare issues. In 2017, an inspector at a performance featuring these elephants found that they had no water and were forced to stand on concrete, even though they had bruised feet—a very painful condition. Betty is used for rides and forced to perform tricks despite being chronically lame, likely as a result of the prolonged chaining and confinement that most elephants used in the circus endure. And the circus's big-cat supplier, Adam Burck, has a policy that big cats must be caged "at all times" while on the road, except during performances, suggesting that the animals aren't given adequate exercise for the up to 11 months of the year they're forced to travel and perform. Please e-mail Jody and Melanie Jordan—the owners of Jordan World Circus—to politely ask that they end the circus's cruel animal acts and focus on the talents of willing human performers instead.
Send polite comments to:
Jody and Melanie Jordan
[email protected]
Please feel free to use our sample letter, but remember that using your own words is always more effective.