Update: For two decades, a chimpanzee named Tootie has been locked up at the derelict Stump Hill Farm without adequate space or enrichment or even the comfort of another of his kind. For years, PETA has aggressively campaigned for his freedom, and today, we're proud to announce that the Ohio Department of Agriculture has rescued him from his imprisonment and granted him a new lease on life!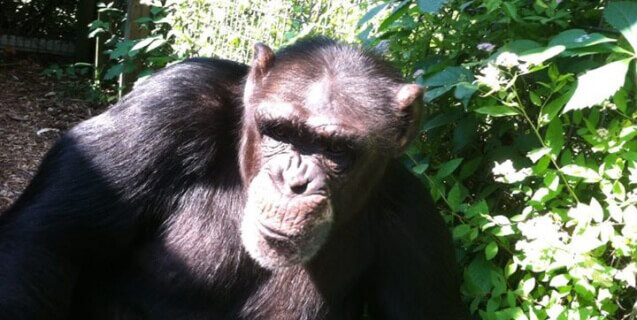 In Massillon, Ohio, at a roadside attraction called Stump Hill Farm, a chimpanzee named Tootie has been kept in solitary confinement for 20 years. Tootie was most likely stolen from his mother as an infant and reportedly spent his early years in the entertainment industry, where he would have been forced to perform meaningless tricks for the camera. The roadside zoo claims to rescue animals from abuse, but it has been cited repeatedly by the U.S. Department of Agriculture (USDA) for decades of animal welfare violations, including for repeatedly denying animals adequate veterinary care and for failing to provide Tootie with enough space and environmental enrichment. Stump Hill has also leased out animals for cheap TV show appearances—something an accredited rescue sanctuary would never do. It's time for Tootie to receive the companionship, enrichment, and care that he needs at an accredited sanctuary.
Chimpanzees are highly social animals. In the wild, they live in large groups and maintain strong social bonds through hours of grooming and playing with others. Stump Hill claims that Tootie didn't get along with his last cagemate—which was over 20 years ago—but an accredited sanctuary would have the ability and expert caregivers to integrate Tootie slowly into a social setting, which he desperately needs. A chimpanzee of Tootie's age should be screened for cardiovascular disease, which is widely known to affect captive male chimpanzees. Over a third of captive chimpanzees die from heart disease—including Chico, a 31-year-old male who recently died suddenly from congenital heart disease at Waccatee Zoo in Myrtle Beach, South Carolina. The facility reportedly had no idea that he had a heart condition. Unlike a roadside zoo, a sanctuary would be equipped to provide lifelong monitoring of Tootie's heart health as he ages, including preventive treatment.
[peta-video youtube="OcsE9WKYW6A"]
Tootie deserves a chance at a sanctuary life—like Iris, who was once isolated in a roadside zoo but now enjoys space to roam and the companionship of her chimpanzee friends at Save the Chimps.
Stump Hill Farm has long been under the scrutiny of the USDA and has been penalized for its chronic animal neglect, including for allowing a reindeer to fall out of a moving vehicle onto a highway. It was also recently cited for failing to notice that a lemur, wolf, and tiger were suffering from injuries.
Without a complex social environment, chimpanzees—just like humans—suffer from loneliness, boredom, and depression. Tootie's days of languishing in isolation at this roadside dump must come to an end. Speak up today and urge the roadside zoo to release Tootie to an accredited sanctuary, where he can live out his days with space to roam, companionship, an abundance of enrichment, and expert caregivers who can tend to his specific health needs.