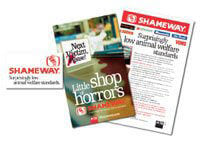 "'Consumers can move retailers in directions they don't want to go,' said [Linda Toby] Oswald-Felker, Safeway's vice-president of public affairs. She cited the recent 'Shameway' campaign waged against the company by the People for the Ethical Treatment of Animals. 'They turned on the light of an issue we need to address,' she said. PETA's video footage of animal welfare violations by Safeway suppliers led to charges of animal cruelty and the introduction of new measures by the grocer."
—The Western Producer, Jan. 27, 2003
On May 15, 2002, after more than 100 demonstrations spanning every state and province where Safeway operates, PETA called off its Shameway campaign when the company agreed to meet PETA's demands by implementing new animal welfare standards. In doing so, Safeway became the first grocery store chain—and the first Fortune 500 company—in U.S. history to pledge to make much-needed improvements in the living and dying conditions of animals on farms.
Under PETA and Safeway's agreement, Safeway committed to implementing immediate, unannounced audits at Seaboard Farms, a major Oklahoma supplier of pig meat. A PETA undercover investigator took video footage of Seaboard Farms workers who beat screaming pigs, bludgeoned them, and slammed them against the floor. Safeway has pledged to stop working with suppliers that fail audits, and the company continues to work cooperatively with PETA in order to improve the lives and deaths of the animals it sells.
Update: Safeway Introduces a New, Industry-Leading Animal Welfare Plan
In February 2008, following six years of post-campaign discussion with PETA, Safeway announced a new, industry-leading animal welfare plan. In the plan, Safeway agreed to do the following things:
Increase its purchases of chickens and turkeys killed using "controlled-atmosphere killing" (CAK) and give purchasing preference to suppliers that use or switch to CAK
Increase the total amount of pig flesh from suppliers that don't use gestation crates by 5 percent over each of the next three years and also give purchasing preference to those suppliers
Double the percentage of cage-free eggs it sells to more than 6 percent by 2010 and give purchasing preference to producers that sell cage-free eggs