Meat Replacements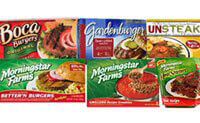 Don't know what to use in place of meat in your favorite recipes? There are now widely available alternatives to just about every type of meat, including chicken-, pork-, fish-, and beef-style products. Plant-based meat substitutes have come a long way in both taste and texture since the days of the first veggie burger, thanks to the growing popularity of vegetarian diets. Faux meats are most often made from soy or wheat protein and are available fresh, dried, or frozen.
Check out our vegan shopping guide for a list of vegan meat alternatives that can give you the flavors you grew up with minus the cruelty to animals, and try the following meat substitutes for mouth-watering, cruelty-free, and heart-healthy meals.
Tofu: First used in China around 200 B.C., tofu has long been a staple of Asian cuisine. Tofu soaks up flavors and is best when marinated for at least 30 minutes or served with a flavorful sauce.
There are two types of tofu that you'll want to try: fresh, water-packed tofu (always refrigerated) for when you want the tofu to hold its shape, such as when baking or grilling, and silken tofu, which is packed in aseptic boxes and usually not refrigerated, for pureing. Try firm or extra-firm tofu for baking, grilling, sautéing, and frying and soft or silken tofu for creamy sauces, desserts, and dressings. Silken tofu is used for making a heavenly chocolate cream pie but will fall apart if you try to make it into shish kebab. When baking tofu, cook it in a marinade so it will soak up more flavor. To give tofu a meatier texture, try freezing it for two to 24 hours and then defrosting it.
Press the water out of the tofu prior to preparing it. Wrap the tofu in a towel and set something heavy on top of it for at least 20 minutes, and it will be ready for marinades, sauces, freezing, and cooking.
Tempeh: This traditional Indonesian food is made from fermented soybeans and other grains. Unlike tofu, which is made from soybean milk, tempeh contains whole soybeans, making it denser. Because of its density, tempeh should be braised in a flavorful liquid (see recipe below) for at least one hour prior to cooking. This softens it up and makes the flavor milder.
After braising, you can dredge the tempeh in flour, corn meal, or a mixture of ground nuts and flour and panfry it. Then try adding it to a sauce and continue cooking it for an enhanced flavor. PETA's famous Tempeh Creole recipe is an example of how satisfying tempeh can be.
Seitan: Also known as wheat gluten, seitan is derived from wheat and is a great source of protein. Try seitan as a chicken substitute in your favorite recipes. We recommend trying Seitan Piccata or Macadamia-Encrusted Seitan With Mango Broccoli Slaw. You can find seitan at most health food stores—but if you are feeling adventurous, you can make it at home.
Recipe: Homemade Seitan  
Whole Grains and Legumes
Whole grains are an excellent source of fiber, protein, B vitamins, and zinc. Legumes include pinto beans, navy beans, kidney beans, garbanzo beans, lentils, peanuts, and black-eyed and split peas. Use beans as a protein source in salads, soups, stews, and rice dishes. Check out our recipe section for delicious whole grain and legume recipes.
Don't forget to check out our vegan shopping guide.
You may have been thinking about a vegan lifestyle for a while but didn't know where to start. Well, it's as easy as one, two, three! Here you can find out how to go vegan in three simple steps.
Respond