Animal-Friendly Outdoor Fun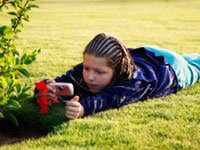 Healthy, fun, and humane outdoor activities abound for people of all ages, abilities, and interest levels. The possibilities for animal-friendly outdoor fun are limited only by your creativity! We've highlighted a few of our favorites here.
If encounters with free-roaming animals are what you're after, don't reach for a rifle or a fishing pole. Instead, grab your camera and head into the woods for a "photo safari" or visit an accredited animal sanctuary, where you can observe how animals such as elephants, bears, tigers, and chimpanzees behave in their own habitats.
Bird-watching is another popular hobby. Bird-identification books (available at your local library) and a pair of binoculars can increase the number of birds you see, but all you really need are your eyes, some time, and patience. You can even bird-watch in your own backyard!
Here are some tips to help you see more animals on your outing:
Respect wildlife's "comfort zone." Always stay a generous distance away from animals, especially nesting birds, baby animals, and nursing mothers. If the animals seem frightened or bothered by your presence, move farther away or leave.
Move slowly and speak extremely quietly, if at all.
Wear clothes that blend in with your surroundings.
Don't wear perfume, hair spray, or other scented personal-care products.
Stand or sit so that the wind is in your face—animals are less likely to pick up your scent.
Stand or sit with the sun to your back—it makes it easier for you to see animals and harder for them to see you.
If underwater life piques your interest, there's no need to impale fish on a hook to see these fascinating animals up close. Snorkeling and scuba diving are excellent ways to experience a huge variety of tropical or freshwater fish, sea turtles, eels, rays, and other animals in their own environment.
If you're lucky enough to live near the ocean, tidepooling—exploring and observing the zone where the ocean meets the land after the tide has gone out—is mesmerizing. You can see barnacles, mussels, starfish, anemones, crabs, young lobsters, and other marine life. Just be extremely careful where you step, as fragile sea creatures are everywhere. Also, never move animals or try to pry them from rocks. You could hurt or kill them in the process.
You might even be amazed by how many fish, tadpoles, turtles, and other aquatic animals you can observe simply by gazing into a river, stream, or pond. Polarized sunglasses can help reduce glare on the water's surface, making it easier to see the animals below.
Even if you live in the "concrete jungle," there are opportunities to connect with nature without taking a road trip. Pack a picnic lunch and a blanket and spend an hour or two at a park or green space, where you can observe "urban" wildlife such as pigeons, squirrels, sparrows, chipmunks, and many other animals. Or immerse your senses in a botanical garden or conservatory, where you can see, smell, and touch plants from around the world.
There are plenty of other animal-friendly outdoor activities, each of which brings opportunities to observe wildlife in their own surroundings and to connect with the natural world. Here are a few more possibilities:
Canoeing or kayaking
Trail-walking, hiking, or backpacking
Camping
Trail-biking (on designated trails)
Cross-country skiing or snowshoeing
Identifying trees, plants, or wildflowers
Gardening
So what are you waiting for? Turn off the TV, get outside, and enjoy some fresh air, exercise, and animal-friendly fun!
Respond