Animal Rights and Reads: Celebrate Book Lover's Day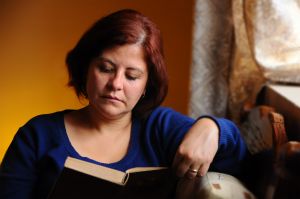 The following article was written by Nora Vizzini.
Do you see in pixels? Accidentally introduce yourself with an "@gmail.com" at the end of your name? Ever say the letters "LOL" instead of laughing? You might not be this far gone, but let's face it: We're wired. If you're ready to unplug and spend your downtime with a page-turner, get ready for this weekend. The first Saturday of November is Book Lover's Day, and what better way to celebrate than to hit "Power Off" and open an animal rights–related book? Check out the following list for a variety of reads we recommend:
The PETA Practical Guide to Animal Rights
By Ingrid E. Newkirk
The most comprehensive book on animal rights out today, The PETA Practical Guide to Animal Rights lists hundreds of easy ways to stop cruelty. Written by PETA President Ingrid E. Newkirk, this book provides facts, personal insight, inspiration, ideas, and resources. It is your go-to guide to making everyday compassionate choices.
Animal Liberation
By Peter Singer
First published in 1975, this groundbreaking book helped launch the modern animal rights movement. Singer exposes the truth behind industries that abuse animals, offers a philosophical argument against "speciesism," and provides concrete humane solutions. It is no wonder that this timeless book still persuades even the hardest of hearts today.
Next of Kin: My Conversations With Chimpanzees
By Roger Fouts with Stephen Tukel Mills
In this fascinating page-turner, primatologist Roger Foust recalls his 30-year career studying the language of chimpanzees. While training them to communicate through sign language, Fouts develops a deep connection with his subjects and evolves into an animal rights advocate who questions the very morality of biomedical research on chimpanzees.
Eating Animals
By Jonathan Safran Foer
If you prefer a personal touch to facts and figures, look no further than Foer's memoir-investigative report Eating Animals. The bestselling author shares his extensive quest to learn who lies on his dinner plate: He investigates factory farms, discusses societal food norms, and digs deep emotionally to arrive at the answer.
Committed: A Rabble-Rouser's Memoir
By Dan Mathews
In this highly entertaining memoir, PETA's very own Dan Mathews shares his colorful adventures as a longtime animal rights activist. Whether he's dressed in a rabbit costume or his birthday suit, Mathews has advocated for animals all around the world. He's living proof that controversy wins victories—and definitely earns laughs.
Skinny Bitch
By Rory Freedman and Kim Barnouin
Part diet book, part gab fest, this informative and downright hysterical book explains serious issues—like factory farm abuse and meat's dangerous health impacts—with a side of sassiness. Chock full of nutritional facts, Skinny Bitch is a great book to give to family and friends because it'll definitely make them think and laugh!
Eva
By Peter Dickinson
Searching for a present for pre-teens and teenagers who are beginning to consider animal rights on their own? Consider Eva, a spellbinding young adult science-fiction novel that follows a teenager whose consciousness is medically transplanted into the body of a chimpanzee after she is paralyzed in an accident. After spending half her time in chimpanzee society, Eva plans to save the species from destruction.
Veganist
By Kathy Freston
Don't like to be lectured to? Prefer a gradual introduction that's kind, not shocking? Then Freston's lifestyle guide is the perfect companion for you. Veganist encourages readers to "lean into" a "veganist" lifestyle—one that is vegan in intention but less concerned with achieving hard and fast perfection. Instead, Freston persuades readers with high praises for veganism's health, environmental, and spiritual benefits.
When Elephants Weep: The Emotional Lives of Animals
By Jeffrey Moussaieff Masson and Susan McCarthy
This national bestseller captured the country's heart for a reason. Masson and McCarthy explore animal emotions with fascinating anecdotes and call on readers to reconsider the treatment of animals who can so clearly feel love, anger, shame, and fear. It is a thought-provoking book that skillfully raises questions without forcing answers.
Meat Is for Pussies: A How-To Guide for Dudes Who Want to Get Fit, Kick Ass, and Take Names
By John Joseph
The "in-your-face" title says it all. Written by a punk rocker-Ironman triathlete who's kicked the meat habit for 30 years, Meat Is for Pussies exposes hard-to-swallow food facts but doesn't want to hear your excuses. A how-to guide that arms readers with steps to take charge of their diet like a man, this fast read is a great "dude's" version of Skinny Bitch.
We're certain that once you crack open one of these books, Book Lover's Day will just be the beginning of an all-out read-a-thon. Have you been inspired by any of these books? Or have another suggestion that you think should make the list? Please share in the comments below!
Respond