Charlotte Ross' Naked Anti-Fur Ad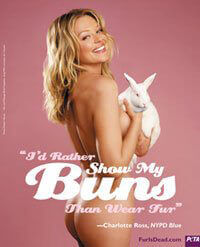 Charlotte Ross bared all for PETA's "Rather Go Naked Than Wear Fur" series, replacing her clothing with one carefully positioned white rabbit. The two-time Emmy-nominated actor creates an arresting image with an enticing message: "I'd rather show my buns than wear fur."
"I can't think of anything more heartless than to torment and kill animals in the name of fashion," said Ross.
Animals raised for fur face lives in small cages, often sick or injured and left unattended and unprotected in extreme weather conditions, or days of agony in traps, tearing flesh and breaking bones in a struggle to get free.
Ross joins the ranks of Pamela Anderson, Kim Basinger, Sheryl Lee, Christy Turlington, and Eva Mendes who've also gone au naturel to save animals' skins in PETA's highly publicized "Naked" series.
Respond