Live-Animal Mascots Get an 'F'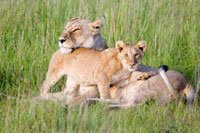 Nothing says "Go, team!" less than an unhappy animal, and with athletes and coaches so prone to raising a ruckus on and off the field, there's no reason to subject a real animal to the stress of being a mascot. Costumed human mascots can lead cheers, react to the crowd, and pump up the team—all things that a frightened animal cannot do.
Lions and Tigers and Bears—Goodbye!
Big cats, bears, and other live-animal mascots don't belong at athletic events. The bright lights, loud noises, and screaming fans are terrifying to an animal, who can't possibly understand what's happening and will become defensive at the drop of a hat. No amount of training can stop an animal from behaving instinctively, and trainers cannot protect themselves or the public from an angry animal's claws, teeth, and sheer strength when he or she rebels against the trainer's dominance. Injury and death are dangers for handlers and spectators who place themselves in an exotic animal's path.
Regardless of how long they are kept in captivity, lions, tigers, bears, and other exotic animals are severely distressed by the overwhelming noise, crowds, and confusion of games and other events. In their natural environments, tigers and lions would quietly roam many miles of territory, hunt, and raise their young. Bears would climb trees, investigate caves, and fish in streams. Animals kept as mascots—such as Mike the Tiger at Louisiana State University, the bears at Baylor University, the jaguar at Southern University, TOM II at the University of Memphis, lions Leo and Una at the University of North Alabama, and the many tiger cubs used by Massillon High School in Ohio—aren't allowed to do any of these natural things. A college campus may be home to the "wild life" of frat parties, cheerleaders, and beer bongs, but it is no place for an animal whose natural home is a forest or jungle.
Team Ambassadors
Several schools offer scholarships to students who are chosen to don the costumes of their schools' mascots. Auburn University and Penn State University are among dozens of institutions with animal mascots, yet they have had long traditions focusing on students in costume at games and events. Costumed human mascots are used at most universities. The Jacksonville Jaguars of the National Football League (NFL) have sent their human mascot to the Middle East to raise morale among American troops.
The human mascot for the NFL's New England Patriots states, "The position of a team mascot is rewarding, exciting, fun, interesting, and can essentially lead to even bigger and better opportunities. … Though [these are] wonderful opportunities to humans, animals do not enjoy any of those benefits." He adds, "While live animals must be tucked away in a corner of a stadium and are rarely seen during the game, a human mascot in costume can be visible, active, and instrumental during the entire event."
The mascot coordinator for Major League Baseball's Arizona Diamondbacks says, "The bottom line is that a human mascot can do far more than a live-animal mascot, with fewer headaches."
Human Helpers
Most people understand that exotic animals don't belong behind bars. A CBS sports director said that he is so troubled by the use of live animals as mascots that he refuses to give them airtime during the sports segments that he oversees.
Some schools help to protect the animals that their human mascots imitate. Caring students and administrators at Penn State University decided—as an act of goodwill and to promote their sports programs—to "adopt" (in the form of monetary support) a fortunate lion on behalf of their costumed "Nittany Lion" human mascot. The adopted lion will live out the remainder of his life in a sanctuary suited to the needs of a big cat.
What You Can Do
Please write to schools that still use exotic animals as mascots. Ask them to send the animals to an accredited sanctuary. If you are a student or a graduate, inform school officials that you will not attend athletic events or donate money—both huge sources of universities' revenue—until they discontinue their live-animal mascot program.
Louisiana State University
A live Bengal tiger called Mike the Tiger is imprisoned in Louisiana State University's (LSU) campus in Baton Rouge, where he is removed from his cage on game days to be paraded in front of screaming football fans. PETA has received reports from listeners alarmed to hear during a radio broadcast of a football game that Mike was "zapped repeatedly with a cattle prod to make him angry so that he will roar" in order to impress the crowd. In ordering the school to improve Mike's enclosure, a U.S. Department of Agriculture (USDA) inspector wrote that transporting a tiger through large crowds "is an extremely dangerous procedure which leaves the university at great political and legal liability."
Please send polite comments to:
Mike Martin, Chancellor
Louisiana State University
156 Thomas Boyd Hall
Baton Rouge, LA 70803
225-578-6977
225-578-5982 (fax)
[email protected]
Southern University and A&M College
Despite PETA's request that Southern University end its use of exotic animals as mascots, the school is planning to acquire a new jaguar after its previous mascot, Lacumba II, was found dead in her garage-sized cage in 2004. Southern is reportedly looking for someone to donate a jaguar. The school has used live jaguar mascots since the 1970s.
Please send polite comments to:
Kofi Lomotey, Chancellor
Southern University and A&M College
Baton Rouge, LA 70813
225-771-4500
[email protected]
Baylor University
Baylor University began using live bears in the 1920s, and the school has used more than 50 live bear cub mascots since 1932. Baylor currently replaces its cubs every two years, robbing these baby bears of time that should be spent with their mothers learning to forage, fish, and climb trees in their natural forest homes. Instead, current mascots Joy and Lady are sent to football, basketball, and volleyball games and other crowded events. When they are not being used, they live in a campus facility known to students as "The Pit." Joy and Lady are sisters but are kept in separate, fenced areas in the enclosure where, reportedly, they can be heard crying out and seen engaging in neurotic behavior typical of caged animals, including pacing and self-mutilation. One expert on captive wildlife said, "[T]he conditions experienced by both bears are outdated, cruel, and do nothing at all to satisfy their biological and behavioral requirements."
Please send polite comments to:
Dr. David E. Garland, Interim President
Baylor University
One Bear Pl., No. 97096
Waco, TX 76798-7096
254-710-3555
[email protected]
University of Memphis
The University of Memphis uses TOM II ("Tigers of Memphis"), a Bengal tiger, to exhibit to crowds at football, basketball, baseball, and soccer games and other school events. The first TOM lived at the Memphis Zoo. TOM II lives at a facility in Collierville, Tennessee, and must endure stressful transport for every appearance that he is forced to make.
Please send polite comments to:
Dr. Shirley C. Raines, President
The University of Memphis
341 Administration Bldg.
Memphis, TN 38152-3370
901-678-2234
[email protected]
University of North Alabama
The University of North Alabama's Leo II died in 2000 after becoming ill and being taken from his 1,600-square-foot cage to Auburn University for testing. PETA, students, and alumni urged school officials not to subject more lions to college life, but the school built a new campus enclosure and acquired two lion cubs, Leo III and Una, in 2003. The University of North Alabama also uses a costumed human "lion" who appears at games and other functions.
Please send polite comments to:
Dr. William G. Cale Jr., President
The University of North Alabama
UNA Box 5004
Florence, AL 35632-0001
256-765-4211
[email protected]
Massillon High School
Massillon High School in Massillon, Ohio, leases tiger cubs from a local animal dealer for use as mascots. The cubs are torn from their mothers, have their claws hacked off, and—when they're not being gawked at during the school's football games—languish in cages. The facility responsible for each tiger cub's care has been cited by the USDA for failure to provide the cubs with a proper diet, failure to maintain a proper program of veterinary care, and failure to have an experienced handler present during public contact with the cubs. Despite polite requests from PETA to stop using live-animal mascots, communication from Massillon officials, students, and citizens has been rude, dismissive, and even threatening.
Please send polite comments to:
Dr. John McGrath, Interim Superintendent
Massillon City Schools
207 Oak Ave. S.E.
Massillon, OH 44646
330-830-3900, ext. 50117
[email protected]
Respond