MEAT: Now With Added Gross Things!
Do you know what's hiding in your meat? If you said chemicals, pathogens, antibiotics, and poop, you're right! Feels good to be right with a mouthful of poop, doesn't it?
Everyone knows that meat's not green, that it's the product of cruelty to animals, and that it raises your risk of suffering from cancer, strokes, and heart disease. But increasingly, conscientious eaters are discovering other facts about meat, facts that might make you throw up—literally.
Subscribe to PETA's YouTube channel and never miss another video.
Read Transcription
Introducing … meat!
Now with added gross things!
Tired of eating food that isn't disgusting? Then enjoy some factory-farmed flesh!
Now featuring:
Poop!
That's good shit!
Do you know what percentage of retail meat contains poop?
If you said:
90 percent of ground turkey,
87 percent of chicken,
and almost 90 percent of ground beef,
then you're right! Feels good, doesn't it? To be right with a mouthful of shit?
Diseases and pathogens!
With so many options, it's hard to pick just one!
Including …
Listeria!
It's perfect for pregnant women!
E coli!
Because your stool needs some color!
Salmonella!
Make full use of your toilet!
Staph!
It'll kill you!
And campy … campylo … campylobacter?
It's campela … campa-lo-baker?
Antibiotics!
Now nearly 30 million pounds!
Eighty percent of all antibiotics used in the U.S. are given to farmed animals! Isn't that just grand?!
And get this, friends: The overuse of antibiotics coincides with the rise of antibiotic-resistant bacteria.
Here are some scientific facts!
And lots more!
Like all these things!
Including ractopamine! Now that's an American drug!
Sticking with sea creatures? Then you'll be pleased to know that a 2013 study found unsafe levels of mercury in 84 percent of all fish.
And get this: Only 2 percent of seafood is inspected by the Food and Drug Administration, leaving bacteria, diseases, chemicals, and carcinogens to go unnoticed in the remaining 98 percent. Delightful!
Chemicals and metals!
They have so many uses!
Chemicals used in meat production are also used for all kinds of gee-whiz things.
Including:
Cleaning swimming pools!
Bleaching wood pulp!
Industrial cleaning!
And that delicious ammonia-treated pink slime is now available in:
Hot dogs!
Lunch meat!
Ground beef!
Sausage!
Chili!
Taco meat!
Canned food!
And beef jerky!
Whether you want it or not!
Oh goodness, Margaret, you do have a devilish sense of humor! And you can find out more about the marvels of meat-making at Meat.org. Bye now!
Get PETA Updates
Stay up to date on the latest vegan trends and get breaking animal rights news delivered straight to your inbox!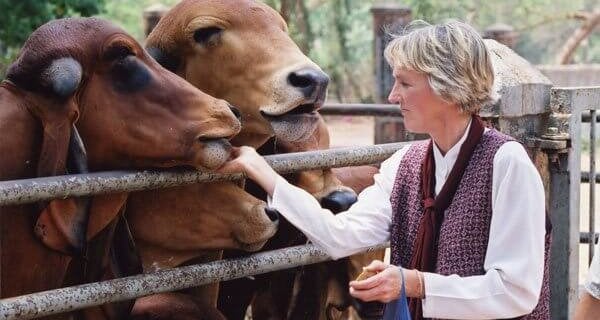 "Almost all of us grew up eating meat, wearing leather, and going to circuses and zoos. We never considered the impact of these actions on the animals involved. For whatever reason, you are now asking the question: Why should animals have rights?" READ MORE
— Ingrid E. Newkirk, PETA President and co-author of Animalkind