James Cromwell: Horseracing is a Blood Sport
Academy Award nominated actor James Cromwell uncovers the abusive and deadly racing industry.
Read Transcription
The Deadliest Two Minutes in Sports
Hi. I'm James Cromwell, for PETA.
I want to make a bet with you—one that I hope I lose.
I'll bet you that at least three horses will be killed on a racetrack today.
Unfortunately, it's a safe bet, because every year, more than 1,000 horses die on racetracks across the United States. So the odds are that there will be three gruesome deaths each day.
What if all professional sports had this fatality rate? Imagine if three NFL players were killed every Sunday!
The horse-racing industry keeps this figure quiet and literally puts up screens to blind viewers from the carnage.
Since 2008, when Eight Belles suffered a catastrophic breakdown in the Kentucky Derby, PETA has investigated and exposed what goes on "behind the screens."
Even before horses are old enough to race, many are killed in training.
Here, we see a fragile 2-year-old being forced to run a sprint at an extremely dangerous speed just to impress potential buyers at an auction.
In slow motion, you can see bone fragments exploding out of her broken leg.
Witnesses said that the sound made when her cannon bone broke was like a rifle shot.
And when racehorses stop winning enough money, many owners discard them. Every year, more than 10,000 Thoroughbreds are crowded into trucks and transported on grueling journeys to Canadian and Mexican slaughterhouses to become dog food and burgers.
Here, a slaughterhouse worker shoots a horse in the head with a captive-bolt pistol and then sarcastically waves goodbye to the dying animal.
This is Royale With Speed. He is a grandson of Triple Crown winner Secretariat, but even his famous pedigree didn't protect him. It was PETA who rescued him—just hours before he was to be loaded onto a truck bound for slaughter.
Any way you slice it, horse racing is a cruel business.
Even former Kentucky Derby winner Ferdinand was slaughtered.
PETA went to the Japanese slaughterhouse in which he was killed. There, they filmed this other young ex-racehorse just before he was slaughtered for meat.
But despite all the castoff racehorses, the industry recklessly continues to breed tens of thousands more Thoroughbred mares every year, perpetuating the deadly cycle.
Here is former Kentucky Derby winner Street Sense mounting a mare.
Sometimes hundreds of mares are bred to the very same prized stallion in the hope of breeding the next Kentucky Derby winner.
And while spectators at Churchill Downs are served mint juleps, the horses are given drug cocktails to enhance their performance and mask the pain of their injuries. These drugs keep the sore and lame horses racing when they should be recuperating and healing, making them even more vulnerable to catastrophic injuries.
These are not voluntary athletes.
They are forcibly medicated, whipped, and sometimes even shocked with electrical devices.
How can we justify treating horses this way for our entertainment?
PETA also documented that Nehro, the second place finisher in the 2011 Kentucky Derby, was forced to race and train on extremely painful hooves in such bad condition that one of his deteriorating hooves had to be held together with super glue.
While suffering in this way, Nehro died at Churchill Downs on Kentucky Derby day in 2013.
Horse racing is not a sport. It's a blood sport.
Let's not disrespect horses. Wave goodbye to horse-racing abuses.
Until the cruelty ends, please don't go to the racetrack or have a Kentucky Derby party or watch the Triple Crown races on TV. And please, never bet on horse racing—because the only sure thing in horse racing is that the horses always lose.
Get PETA Updates
Stay up to date on the latest vegan trends and get breaking animal rights news delivered straight to your inbox!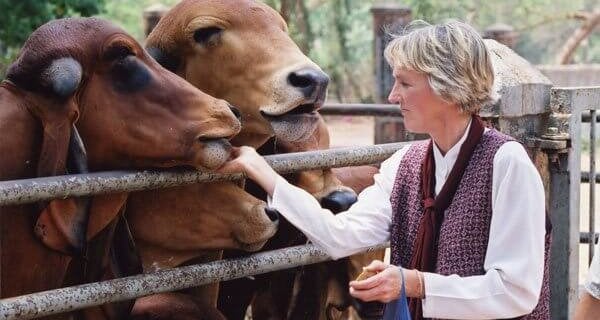 "Almost all of us grew up eating meat, wearing leather, and going to circuses and zoos. We never considered the impact of these actions on the animals involved. For whatever reason, you are now asking the question: Why should animals have rights?" READ MORE
— Ingrid E. Newkirk, PETA President and co-author of Animalkind