Vegan
Zucchini Roulade with Pesto and Maple Mustard Dressing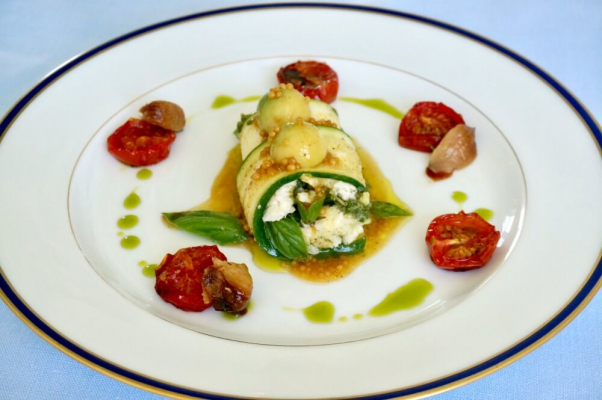 Print
Ingredients
2 tsp.

yellow mustard

1/2 cup

vegetable stock

2 Tbsp.

mustard seeds

2 Tbsp.

vegan sweetener (e.g., agave)

Salt, to taste

Pepper, to taste

1 1/4 cup

olive oil

1/4 cup

vegan Parmesan cheese

7 cloves

garlic

2 oz.

fresh basil, plus a few leaves for garnish

Juice of 1/2 lemon

1/4 cup

pine nuts

1 cup

cherry tomatoes, halved

3–4

zucchinis, sliced lengthwise

1 Tbsp.

chopped chives

1/2

avocado
Instructions
Add the mustard, vegetable stock, and mustard seeds to a pot and cook over medium-high heat for about 5 minutes.
Add the sweetener and the salt and pepper to taste.
Gradually whisk in 1/2 cup of the olive oil and remove from the heat.
In a food processor, make a pesto by mixing 2 tablespoonsful of the vegan Parmesan cheese, 1/2 cup of the olive oil, 1 clove of garlic, 2 ounces of basil, the lemon juice, pine nuts, and salt and pepper to taste and processing until smooth.
Preheat the oven to 400°F. In a bowl, combine the tomatoes, the remaining garlic, 2 tablespoonsful of the olive oil, and the salt and pepper to taste. Place on a baking sheet and roast for 15 to 20 minutes, or until the garlic is soft.
Brush the zucchini slices with the remaining olive oil.
Combine the Mozzarisella with the remaining vegan Parmesan cheese and the chives. Spread onto the zucchini slices.
Drizzle with the pesto and garnish with the remaining basil leaves.
Roll the zucchini slices into spirals, surrounding the stuffing.
Using a melon baller, scoop out avocado balls and place on top of the zucchini rolls.
Arrange the roasted cherry tomatoes and garlic on the plate around the rolls.
Drizzle with the mustard dressing and serve.
Makes 3 to 4 servings
Recipe adapted from Plant-Based Foods Inc.