Vegan
Vegan Rainbow Lemon Cake with Buttercream Frosting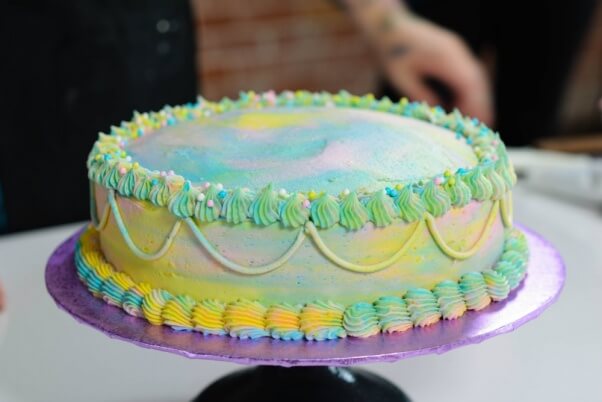 Print
Ingredients
4

lemons

1 1/2 cups

dairy-free milk

2 2/3 cups

flour

1/4 cup

cornstarch or tapioca starch

1/2 Tbsp.

baking powder

1 tsp.

baking soda

3/4 tsp.

salt

1 1/2 cups

canola oil or rice bran oil

1 Tbsp.

vanilla

1 2/3 cup

white sugar

Vegan food coloring (optional)
Instructions
Preheat the oven to 350°F.
Zest and juice the lemons into a liquid measuring cup and add the dairy-free milk. Whisk and set aside.
Combine the flour, cornstarch, baking powder, baking soda, and salt in a bowl.
In a separate bowl, mix the oil, vanilla, and sugar with the milk mixture. Then add the dry mixture and stir to combine. Separate the batter into as many bowls as you'd like for coloring and add food coloring to each bowl.
Pour the batter into greased cake pans (makes enough for two 8-inch round or four 6-inch round layers), alternating adding layers of different colored batter. Swirl the batter around with a fork and bake for 15 to 20 minutes or until a toothpick comes out clean.
Makes 16 to 20 servings
Adapted from baker and cake decorator Ashley Shotwell's recipe.
[peta-video youtube="AqUNr42TrS8″]