Vegan
Vegan Rainbow Grilled Cheese Sandwiches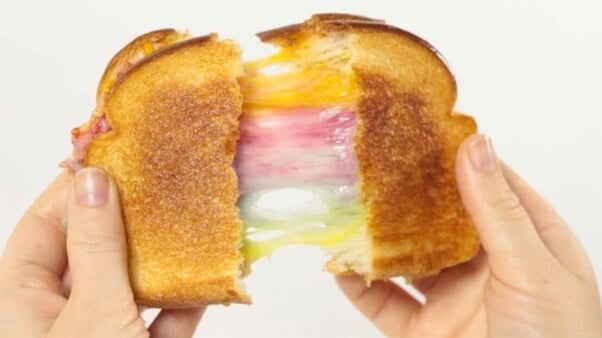 Print
Ingredients
2 pkgs.

Daiya mozzarella-style vegan cheese shreds

5 colors

cruelty-free food coloring

3 Tbsp.

vegan butter or mayo

10 slices

bread
Instructions
Divide the vegan cheese shreds evenly among 5 small bowls—1 per color—and add 3 to 6 drops of food coloring to each, mixing well to distribute the color evenly.
Warm a large pan over medium heat.
Spread the vegan butter or mayo on one side of each bread slice. Place 5 slices butter-side down in the pan.
On each slice, create colorful rows made out of the vegan cheese shreds. Top with the remaining bread slices, butter-side up.
Fry until golden brown, then flip and fry the other sides until golden brown and the vegan cheese has melted.
Enjoy!
Makes 5 sandwiches
[peta-video youtube="os7G38I3ew8″]