Vegan
Vegan Noodle Kugel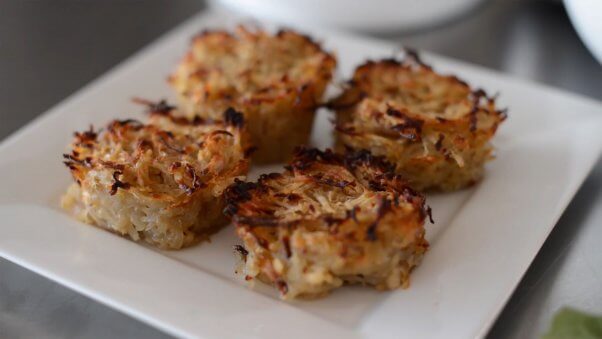 Print
Ingredients
12 oz.

wide noodles, such as farfalle

15 oz.

silken tofu

3/4 cup

agave nectar

1/4 tsp.

vanilla extract

1 tsp.

cinnamon, plus extra for dusting

1 tsp.

cardamom powder

1 tsp.

ginger powder

1 1/2 cups

raisins

4

apples, cubed

1/4 cup

applesauce
Instructions
Preheat the oven to 425ºF.
Cook the noodles according to package directions and drain.
Using an electric mixer or a blender, cream the tofu with the agave nectar, vanilla, cinnamon, cardamom, and ginger until smooth.
Place in a large bowl and add the noodles, raisins, apples, and applesauce. Mix well.
Pour into a large baking pan with high sides and bake for 25 minutes, or until nicely browned.