Vegan
Savory Mixed Greens and 'Bacon'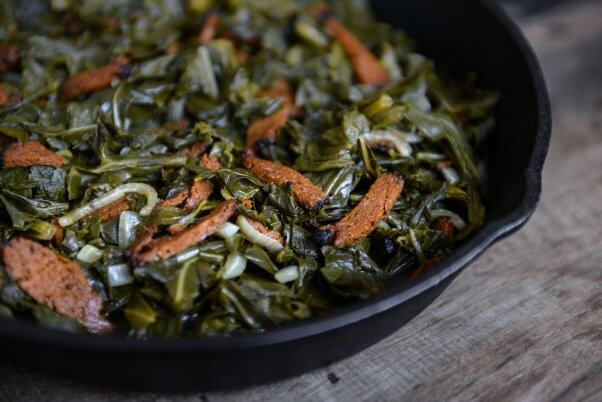 Print
Ingredients
1 pkg.

Sweet Earth Benevolent Bacon, cut into small bite-size pieces

1 Tbsp.

olive oil

2 cups

vegetable broth

1 cup

water

1 Tbsp.

liquid smoke

1 Tbsp.

salt

1 Tbsp.

garlic powder

1 tsp.

cayenne pepper

1/2 lb.

collard greens, chopped

1/2 lb.

mustard greens, chopped

1

onion, peeled and cut into thin slices
Instructions
In a pan, sauté the chopped "bacon" in the olive oil for 2 to 3 minutes. Set aside.
Place the broth, water, liquid smoke, and seasoning in a large pot and bring to a boil.
Add the collard greens and cook for 10 minutes, then add the mustard greens, cover, and cook for 30 minutes more.
Add the onions and "bacon" to the pot and cook covered for an additional 10 minutes, or until the greens are tender.