Vegan
Vegan Fettuccine Alfredo alla Carbonara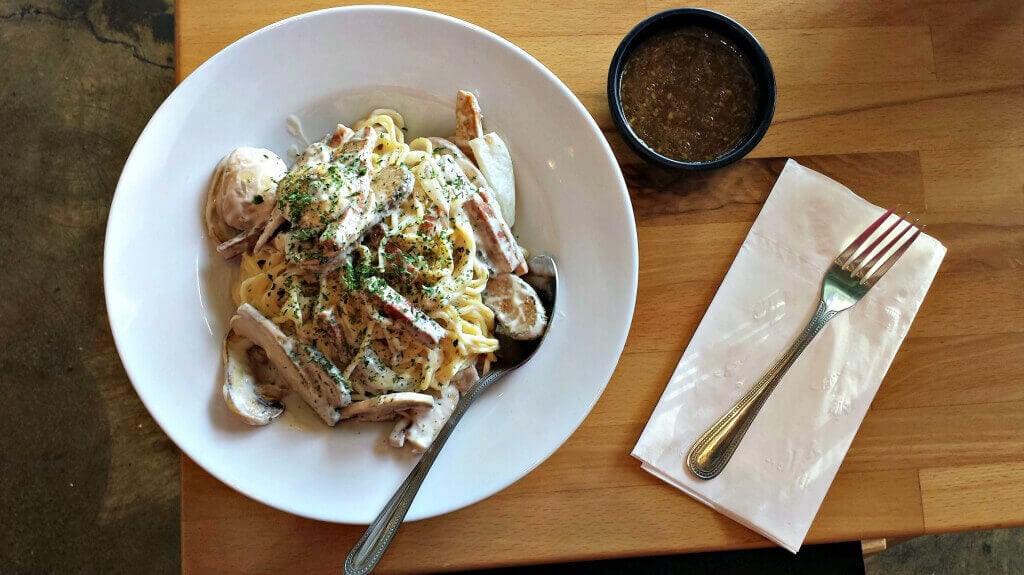 Print
Ingredients
3 lbs.

firm tofu, cut into 1/8-inch slices

1 cup

tamari

Dash

liquid smoke

1 cup

maple syrup

1 cup

raw cashews

1 1/2 cups

water

1 lb.

white mushrooms, sliced (optional)

1 1/2 cups

water

1 head

garlic, roasted and crushed

36 oz.

vegetable stock

3/4 cup

nutritional yeast

Salt and pepper, to taste

1 1/2 lbs.

cooked vegan fettuccine
Instructions
Preheat the oven to 325°F.
Place the tofu slices in a baking dish. Combine the tamari, liquid smoke, and maple syrup in a small bowl, then pour over the tofu slices. Bake for approximately 45 minutes, turning once.
Process the cashews in a blender, adding a little of the water at a time and blending until super-smooth. (There shouldn't be any grit when you rub the mixture between your fingers.)
Heat a sauté pan over medium heat. Add the smoked tofu, sliced white mushrooms, and roasted garlic and cook until fragrant. Add the cashew cream, vegetable stock, and nutritional yeast and season with salt and pepper. Continue to cook until heated through.
Sprinkle the cooked fettuccine with salt before adding to the pan to prevent the pasta from robbing the sauce of its salty flavor.
Makes 6 to 8 servings