Vegan
Vegan Chicken Parmesan
Prep Time

10 minutes

Cook Time

20 minutes

Servings

2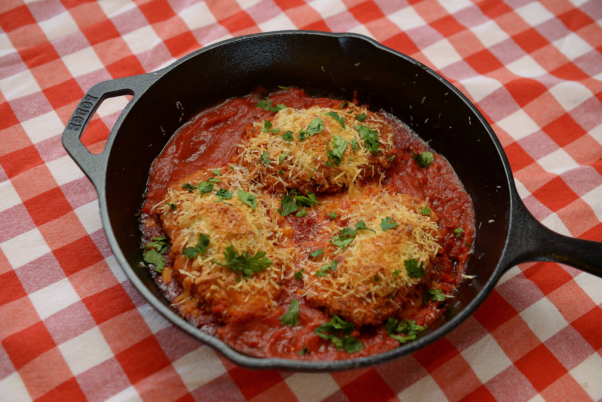 Print
Ingredients
1/2 cup all-purpose flour

Vegan egg replacer equivalent to 4 eggs

1 1/2 cups panko bread crumbs

1/2 tsp. garlic powder

2 vegan chicken cutlets (try Gardein Chick'n Scallopini or Quorn Chik'n Cutlets)

Vegetable oil, for frying

2 cups marinara sauce

Vegan mozzarella cheese shreds, to taste

Vegan Parmesan cheese, for garnish

Parsley, for garnish (optional)
Instructions
Fill one mixing bowl with the flour, another with the vegan egg mixture, and a third with the bread crumbs and garlic powder.
Coat each vegan chicken cutlet in the flour and shake off any excess. Dip into the vegan egg mixture and then into the bread crumb mixture and set aside.
Heat 1/4 inch of oil in a deep skillet. Fry the breaded cutlets until golden brown, about 5 to 7 minutes, flipping halfway through. Transfer to a paper towel–lined plate to drain.
Spread 1 cupful of the marinara sauce over the bottom of a baking dish. Lay the cutlets in the dish and top with the remaining sauce and vegan mozzarella, to taste, and bake at 350°F until the "cheese" is melted, about 10 minutes.
Garnish with the vegan Parmesan and parsley, if using, and serve immediately.