Vegan
Vegan Banana Bread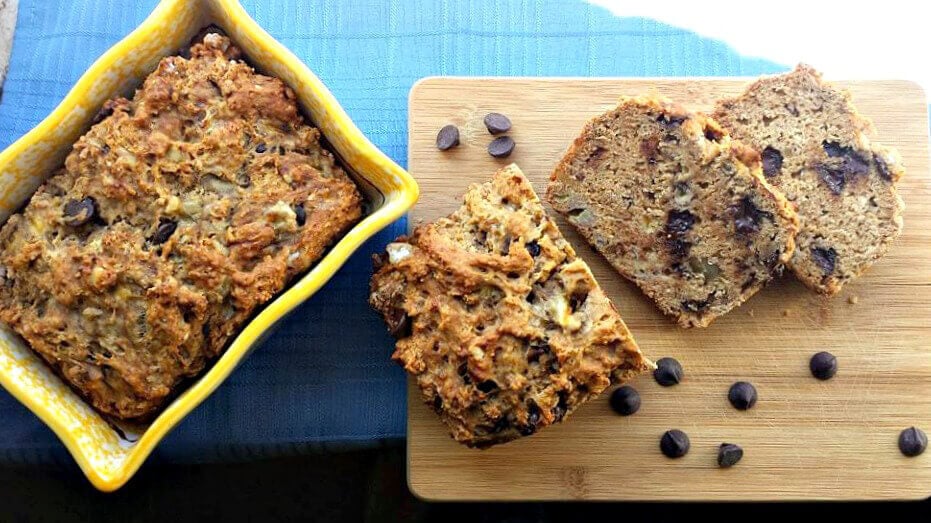 Print
Ingredients
1 Tbsp.

ground flaxseed + 3 Tbsp. water

3-4

very ripe bananas, mashed

1/6 cup

canola oil

1/6 cup

applesauce (preferably unsweetened)

1/2 cup

agave nectar

1 tsp.

vanilla

1 tsp.

baking soda

1 1/2 cups

whole wheat flour (or any other flour)

1/4 tsp.

salt

3/4 cup

walnut pieces (optional)

1/2 cup

chocolate chips (optional)
Instructions
In a small cup or bowl, mix the ground flaxseed with the water. Stir well, then cover and refrigerate for about an hour. Remove from the fridge, then stir well again.
Pre-heat the oven to 325ºF.
In a large bowl, combine the mashed bananas, oil, applesauce, agave nectar, and vanilla. Add the flaxseed mixture. Mix well.
Add the dry ingredients. Stir until completely combined.
Grease an 8-inch-by-4-inch pan with cooking spray. Pour the mixture into the pan so that it is evenly distributed.
Bake for 45 to 55 minutes. Cooking time can vary from oven to oven, so check on the bread at 45 minutes. Insert a toothpick into the center of the loaf―if it comes out clean, the banana bread is done.
Makes 1 loaf