Vegan
Chef Grandy's Vegan Baked Mac & Cheese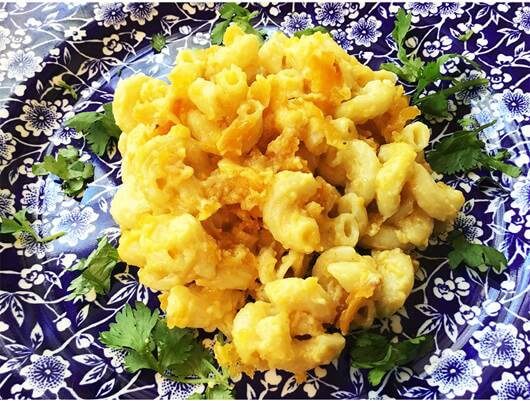 Print
Ingredients
3 Tbsp.

vegan butter

1 tsp.

yellow mustard

Pepper, to taste

2–3 drops

Tabasco sauce

3 Tbsp.

flour

2 cups

unsweetened nondairy milk

1 16-oz. pkg.

elbow macaroni or pasta of choice, cooked

1 cup

Cashew Cheese Sauce

Panko breadcrumbs and paprika, for garnish
Instructions
Preheat the oven to 350°F.
In a large pot, melt the vegan butter over medium heat. Add the mustard, pepper, and Tabasco sauce and mix until smooth. Whisk in the flour until combined and stir in the nondairy milk. While stirring, bring to a boil, then reduce the heat to low and continue stirring until thickened, about 1 minute. Mix in the Follow Your Heart vegan cheese shreds and stir again until melted and the mixture has thickened further, about 2 minutes.
Add the cooked pasta and Cashew Cheese Sauce to the "cheese" mixture and mix well. If desired, add up to ½ cup additional nondairy milk for consistency.
Pour the mac and "cheese" into an 8-inch-by-10-inch baking dish and top with the Daiya vegan cheese shreds as well as a sprinkling of panko breadcrumbs and paprika.
Bake for 30 minutes or until the "cheese" is bubbling and the top is starting to brown.
Makes 8 to 10 servings
Adapted from Ohhlicious cookbook