Vegan
Vegan New York–Style Bagels with Tomato Lox (Video)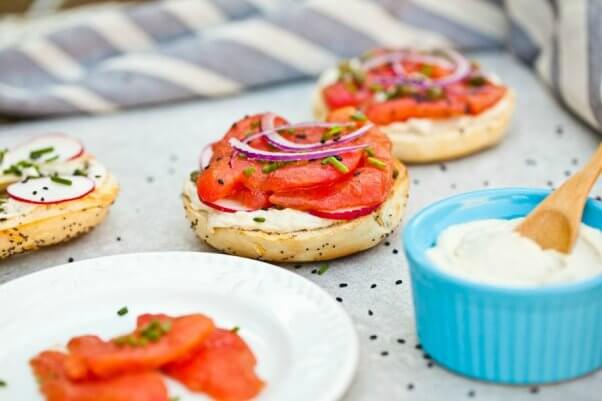 Print
Ingredients
Water, for boiling

6

large roma tomatoes

3

Tbsp. tamari or soy sauce

2 tsp.

olive oil

1 tsp.

water

1 tsp.

kelp powder

1 tsp

liquid smoke

5

bagels, halved and toasted

Chives, capers, radishes, red onion, and black sesame seeds (optional)
Instructions
Bring water to a boil in a saucepan. Pierce the skin of each tomato with a knife and drop into the water for 30 seconds to 1 minute, or until the skins begin to peel off. Transfer the tomatoes to a large bowl of ice water to prevent further cooking.
Combine the tamari or soy sauce, olive oil, water, kelp powder, and liquid smoke in a small bowl and whisk until smooth.
Peel the skins off the tomatoes. Cut the tomatoes in half lengthwise, then carefully trim away the seeds and firm inside layer. Add the soft tomato pieces to the tamari marinade. Mix with your hands to ensure that the tomatoes are evenly coated. Cover and refrigerate for 30 minutes.
Spread each bagel half with a generous layer of Cashew Cream Cheese. Add layers of tomato lox and toppings of your choice, such as chives, capers, radishes, red onion, and black sesame seeds. Tomato lox will keep in a covered container in the fridge for up to 4 days.
Makes 5 servings
Adapted from Carrots and Flowers
[peta-video youtube="w6YT8hvJM7c"]