Vegan
Vegan Albóndigas (Meatball) Soup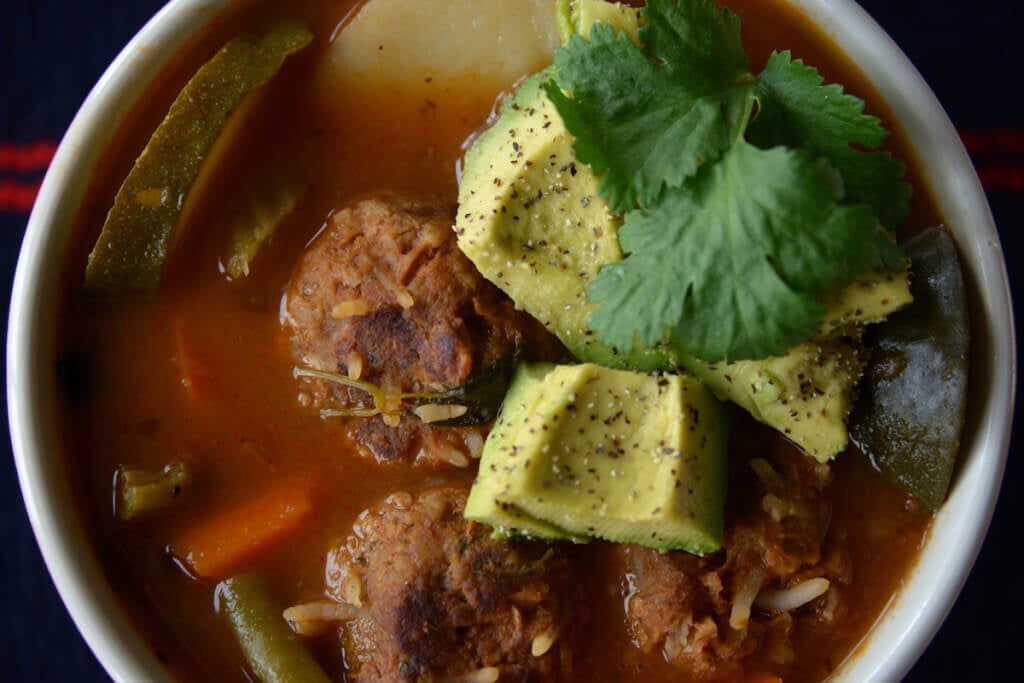 Print
Ingredients
1 8-oz. can

tomato sauce

4 cups

vegetable broth

1/2 cup

diced white onions

1 1/2 tsp.

celery flakes

2 cups

water

Dash

sea salt, plus more for seasoning

Dash

pepper, plus more for seasoning

1/4 cup

uncooked white rice

1/4 cup

dried bread crumbs

1 tsp.

onion powder

1 tsp.

dried oregano

4

large carrots, cut into 1/2-inch rounds

3 stalks

celery, cut into 1-inch pieces

1

yellow onion, chopped

3

potatoes, cubed

1

large zucchini, cut into 1/2-inch rounds

1/2 lb.

fresh green beans, cut into 1-inch pieces

Fresh chopped cilantro, for garnish

Diced avocado, for garnish
Instructions
Mix the tomato sauce, vegetable broth, white onions, celery flakes, and water together in a large pot and bring to a boil. Season with sea salt and pepper.
In a medium-sized bowl, add the vegan ground beef, vegan chorizo, white rice, dried bread crumbs, onion powder, oregano, a dash of sea salt, and a dash of pepper and mix together with your hands until well combined. Using a 1/8-cup measuring cup, shape the mixture into balls.
Spray a large skillet with nonstick spray and brown the "meatballs" carefully over medium-high heat, then remove and set aside. (The "meatballs" do not need to be fully cooked, as they will finish cooking in the soup.)
Add the carrots, celery, yellow onion, and potatoes to the boiling broth. Reduce the heat to a simmer and cook until the potatoes are nearly tender, about 15 minutes. Add the "meatballs" and remaining vegetables and continue simmering for 15 to 20 minutes. Season with sea salt and pepper.
Ladle into bowls and garnish with fresh chopped cilantro and diced avocado. Serve with warm corn tortillas and fresh salsa—enjoy!