Adapted from a recipe by and published by permission of The Daily Dish.
Vegan
The Daily Dish's Easy Vegan Eggplant Curry
Prep Time

5 minutes

Cook Time

40 minutes

Servings

6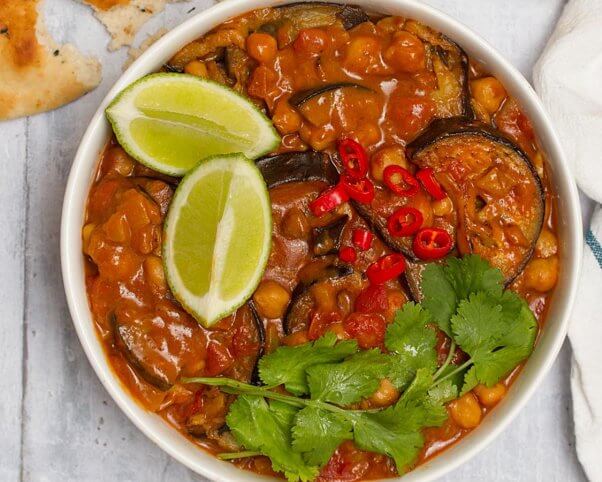 Print
Ingredients
2

eggplants, sliced into 1-inch-thick half-moon shapes

2 Tbsp.

vegetable oil

Salt and pepper, to taste

1

onion, minced

4 cloves

garlic, minced

1 2-inch piece

ginger, grated

1

chili pepper, deseeded and minced (omit for a less spicy curry)

1 tsp.

turmeric

2 tsp.

curry powder

1 14-oz. can

chickpeas, rinsed and drained

1 14-oz. can

coconut milk (full- or low-fat)

1 14-oz. can

chopped tomatoes

1 Tbsp.

tamarind paste

maple syrup
Instructions
Put the eggplant in a large bowl. Add the vegetable oil and toss until evenly coated. Season with the salt and pepper.
In a large sauté pan over medium heat, cook the eggplant in two batches until soft and browned, about 3 to 5 minutes per side. Add more oil if needed. Remove from the pan and transfer to a paper towel–lined plate.
Sauté the onion for 3 to 4 minutes. Add the garlic, ginger, and chili pepper (if using) and sauté for 1 minute. Add the turmeric and curry powder and sauté for 30 seconds.
Add the chickpeas to the pan and toss.
Pour in the coconut milk and chopped tomatoes. Stir in the tamarind paste and maple syrup.
Add the eggplant and simmer over low heat for 20 minutes.
Makes 6 servings