Adapted from a recipe by and published by permission of The Daily Dish.
Vegan
The Daily Dish's TVP Chili Sin Carne
Prep Time

10 minutes

Cook Time

26 minutes

Servings

8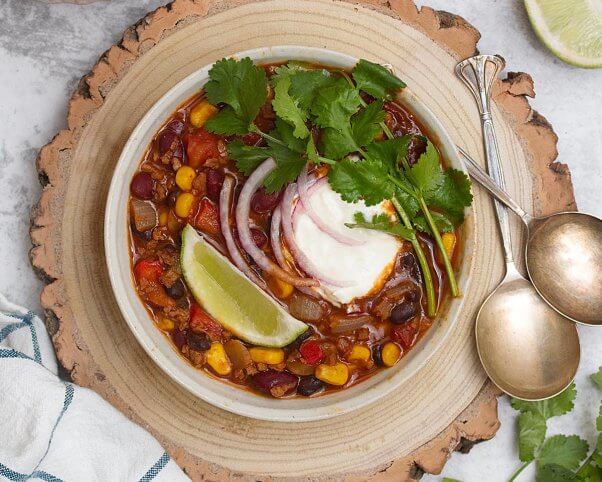 Print
Ingredients
1 1/2 cups

TVP

1 tsp.

liquid smoke

2 tsp.

cumin

1 tsp.

chili powder

1 Tbsp.

tomato purée

2 Tbsp.

olive oil

1

yellow onion, diced

1

red pepper, diced

3 cloves

garlic, minced

3

chipotle chili peppers, roughly chopped

2 Tbsp.

adobo sauce

1 14-oz. can

kidney beans, rinsed and drained

1 14-oz. can

black beans, rinsed and drained

1 14-oz. can

chopped tomatoes

1 cup

corn kernels (fresh, canned, or frozen)

Optional toppings: vegan sour cream, sliced red onion, cilantro
Instructions
In a large bowl, pour 1 1/2 cups of the hot water over the TVP. Add the liquid smoke, cumin, chili powder, and tomato purée. Set aside.
Heat the oil in a large pot over medium heat. Sauté the onion and red pepper for 5 minutes. Add the garlic and sauté for an additional minute.
Add the TVP mixture, chipotle chilies, and adobo sauce to the onions and red peppers and sauté for two minutes.
Add the kidney and black beans. Pour in the chopped tomatoes and remaining hot water. Stir in the corn kernels. Reduce the heat and allow to simmer, covered, for 20 minutes, or until thickened.
Serve with your favorite toppings, such as vegan sour cream, sliced onion, and cilantro.
Makes 8 servings
PETA is a participant in the Amazon Services LLC Associates Program, an affiliate advertising program designed to provide websites with a means to earn advertising fees by advertising and linking to Amazon.com.