Vegan
Thanksgiving Wontons
Prep Time

25 minutes

Cook Time

15 minutes

Servings

30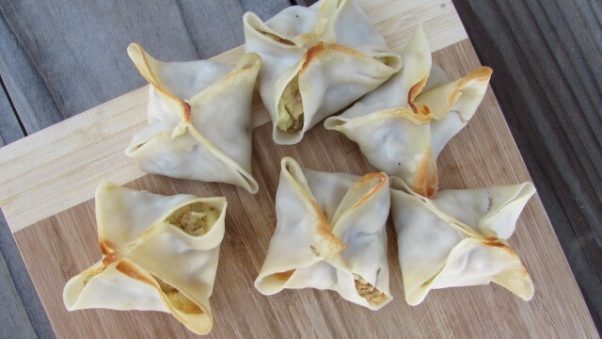 Print
Ingredients
2

cups vegetable broth

1

cup chopped onion

1

cup chopped celery

1

12-oz. bag herb-seasoned cubed vegan stuffing (try Pepperidge Farm brand, which is available almost everywhere)

3

potatoes, cubed and boiled

2

Tbsp. vegan butter

3/4

cup nondairy milk

1/2

Tbsp. minced garlic

Salt and pepper, to taste

30

vegan wonton wraps

1

Tbsp. oil for browning wontons
Instructions
Bring the broth, onion, and celery to a boil in a large saucepan over medium-high heat.
Reduce the heat to low. Cover and cook for 5 minutes, or until the vegetables are tender, stirring often.
Remove from heat. Add the stuffing and mix lightly.
In a large bowl, mash together the potatoes, vegan butter, and nondairy milk until slightly creamy.
Stir in the minced garlic, salt, and pepper.
Preheat the oven to 350ºF.
Add 1/2 tablespoonful of mashed potatoes and 1/2 tablespoonful of stuffing to the middle of each wonton wrap. Bring all four corners together and "glue" the tips closed using a small amount of water on your fingertips.
Brush top of each wonton with a drop of oil. Vegetable or olive oil works.
Bake wontons for 10-15 mins, or until browned.
Serve with gravy.