Vegan
Tangy BBQ Cauliflower Wings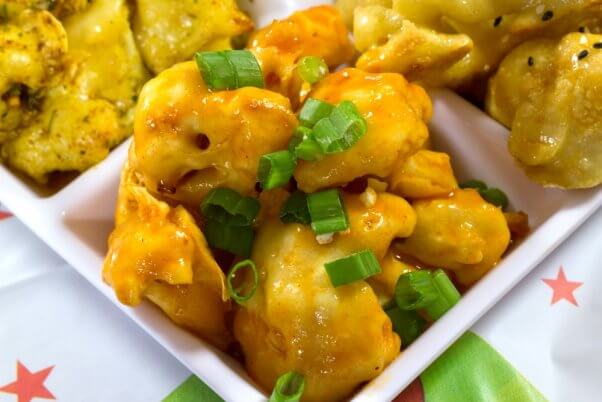 Print
Ingredients
1 cup

water or soy milk

1 cup

flour (any kind will work—even gluten-free)

2 tsp. + 1 tsp.

garlic powder

1 head

cauliflower, chopped into pieces

1 Tbsp.

vegetable oil or melted vegan butter

1 cup

of your favorite vegan BBQ sauce

1/4 cup

hot sauce (optional)

1

pinch salt

Sliced green onion, for garnish (optional)
Instructions
Preheat the oven to 450°F.
Combine the water or soy milk, flour, and 2 tsp. garlic powder in a bowl and stir until well combined.
Coat the cauliflower pieces with the flour mixture and place in a shallow baking dish. Bake for 18 minutes.
While the cauliflower is baking, combine the oil or melted vegan butter, BBQ sauce, hot sauce (if using), salt, and remaining garlic powder in a small bowl.
Pour the BBQ sauce mixture over the baked cauliflower and bake for an additional 5 to 8 minutes.
Garnish with sliced green onion and enjoy.
Makes 4 servings
[peta-video youtube="5o_3Vz7fjGg"]