Vegan
Sushi Burger (Vegan + Gluten-Free)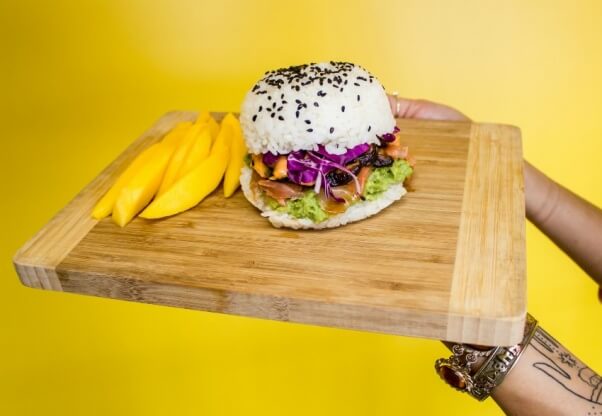 Print
Ingredients
1 cup

sushi rice, cooked

1/4 cup

rice vinegar

1 Tbsp.

sugar

1 tsp.

salt

1 Tbsp.

coconut oil

1 clove

garlic, crushed

1/3 cup

tamari or soy sauce

1 Tbsp.

mirin

1 Tbsp.

brown sugar

1 cup

shiitake mushrooms, sliced

1/2

avocado

1 tsp.

wasabi or wasabi powder

1 tsp.

vegan mayonnaise

1 tsp.

Sriracha

Pickled ginger, to taste

Shredded red cabbage, to taste

Black sesame seeds, for garnish
Instructions
In a bowl, mix together the rice, vinegar, sugar, and salt, then refrigerate.
Combine the coconut oil, garlic, tamari, mirin, and brown sugar in a small pot or skillet. Add the mushrooms and simmer for 5 to 10 minutes over low heat.
Mash the avocado and wasabi together in a bowl. Set aside.
Mix together the vegan mayo and Sriracha. Set aside.
Wet your hands and the inside of a small bowl with some water. Pack 1/2 cup rice into the bottom of the bowl as tightly as possible. Flip over and gently tap the bottom until the rice "bun" pops out. Repeat with the remaining rice.
Spread the wasabi-avocado mixture on one of the "buns." Then top with the mushrooms, Sriracha-mayo mixture, ginger, and shredded cabbage.
Place the other "bun" on top and sprinkle with the sesame seeds.
Enjoy with chopsticks. This one's messy!
Makes 1 burger
[peta-video youtube="k7XVDHp7dQY"]