Vegan
Super-Simple Vegan One-Pot Tortilla Soup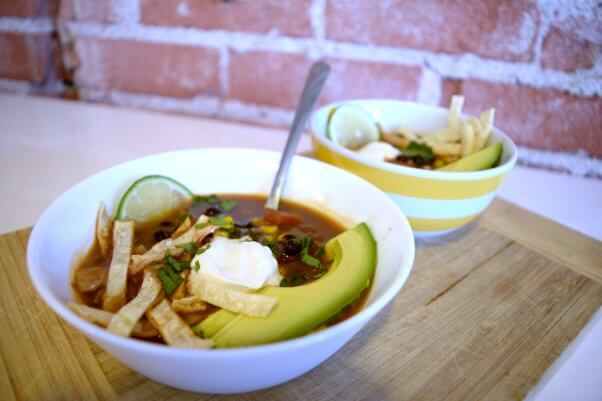 Print
Ingredients
4 cups

vegetable stock

1 can

diced tomatoes

1 can

black beans

1/2

medium white onion, peeled and chopped

2

bay leaves

1

clove garlic, minced

1 tsp.

chili powder

1 tsp.

cumin

1 tsp.

paprika

1 tsp.

pepper

1 cup

vegan chicken (we used Before the Butcher shredded

1–2 cups

frozen corn

3–4

corn tortillas

Optional toppings: lime wedges, chopped cilantro, avocado, vegan sour cream
Instructions
Place all the ingredients, except the tortillas and toppings, in a large pot, pressure cooker, Instant Pot, or other multicooker. If using a stovetop pot, simmer over medium heat for about 20 minutes. If using a multicooker, set to high pressure and cook for 10 to 15 minutes.
Meanwhile, cut the tortillas in half and then into strips. Place on a sheet pan and bake at 450°F for 10 minutes, or until crunchy.
Top the soup with the baked tortilla strips and desired toppings.
Makes about 8 to 10 servings