Vegan
Stuffed Heart-Shaped Vegan Spinach-and-Cashew Ravioli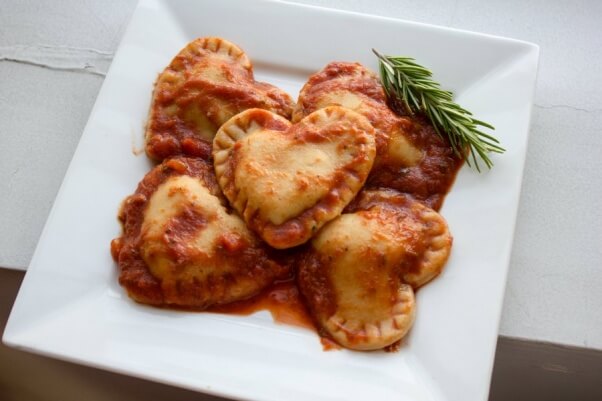 Print
Ingredients
1 1/2 cups

semolina flour

1 1/2 cups

whole-wheat pastry or all-purpose flour

1 1/2 tsp.

salt

2 Tbsp.

extra-virgin olive oil

1 cup

water

1

clove garlic, minced

1 cup

finely diced onion

1/2 cup

finely chopped raw cashews

1/2 cup

spinach
Instructions
Mix the flour and 1 teaspoonful of salt in a large bowl. In a separate bowl, mix together 1 tablespoonful of olive oil and the water. Add to the flour and mix until fully combined (add water as needed). Cover with plastic wrap and refrigerate for at least 10 minutes.
Heat the remaining olive oil in a medium pan over medium heat and add the garlic and onion. Cook until the onions are translucent.
Add the cashews, spinach, and remaining salt and cook until the spinach is fully wilted and no water remains, about 5 minutes. Set aside.
Place the dough on a floured cutting board and roll out to form a flat, even rectangular shape. Cut the dough in half, forming two squares of the same size.
Spoon the filling onto one half of the dough in small mounds about 2 inches apart. Place the other half of the dough on top and cut around the filling using a heart-shaped cookie cutter.
Press firmly with a fork around the edges of the ravioli. Boil for about 8 minutes and serve with your favorite pasta sauce.
Makes about 24 ravioli