Vegan
One-Pot Vegan Jambalaya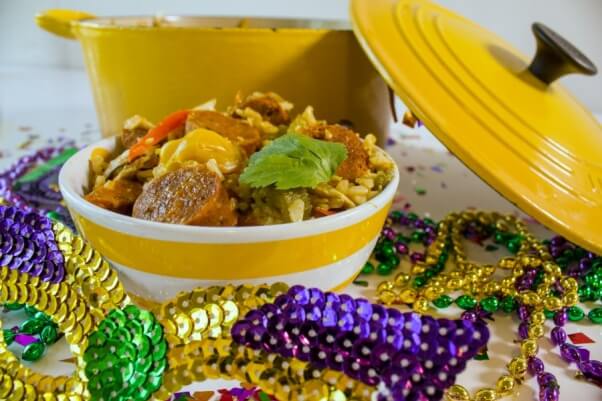 Print
Ingredients
2 Tbsp.

olive oil

1

white or yellow onion, chopped

3

bell peppers, chopped

3

celery stalks, sliced

2-3

garlic cloves, minced

2

cups grape tomatoes

Salt and pepper, to taste

1/2 tsp.

cayenne pepper

1/2 tsp.

paprika

1/2 tsp.

dried oregano

1/2 tsp.

ground thyme

3 cups

vegetable broth

1 tsp.

vegan Worcestershire sauce (try Annie's)

3

bay leaves

1 cup

uncooked brown rice

1 cup

mushrooms, chopped (optional)

1 cup

vegan chick'n, cut into small pieces

4

vegan sausages, sliced (try Cajun-Style Artisan Tofurky Andouille Sausages)
Instructions
In a large saucepan, heat the olive oil on medium-high. Add the onion, bell pepper, celery, garlic, and tomatoes. Cook for a couple of minutes. Add the salt, pepper, cayenne, paprika, oregano, and thyme. Cook for 1 minute.
Stir in the broth, vegan Worcestershire sauce, and bay leaves. Bring to a boil and add the rice. Reduce the heat to a simmer and cook for 20 to 30 minutes, stirring occasionally and adding more broth if necessary.
When the rice is almost done, stir in the mushrooms, vegan chick'n and sausage. Cook until heated through and serve.
Makes 6 to 8 servings
[peta-video youtube="oHHKr2Kd_9M"]