Vegan
'Bacon' and 'Cream Cheese' Stuffed Mushrooms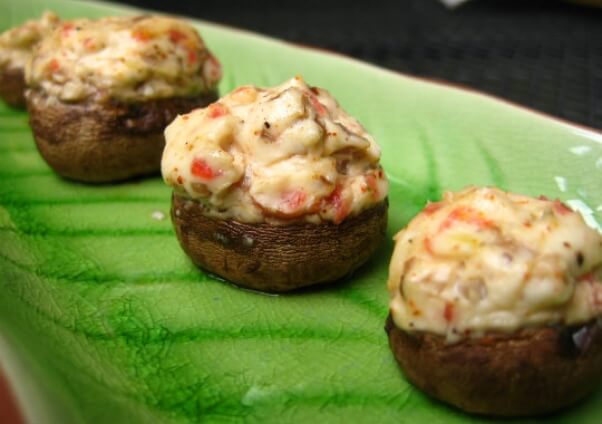 Print
Ingredients
12

whole fresh mushrooms

1 Tbsp.

vegetable oil

1 Tbsp.

minced garlic

8 oz.

vegan cream cheese

1/4 tsp.

ground black pepper

1/4 tsp.

onion powder

1/4 tsp.

ground cayenne pepper

2 Tbsp.

vegan bacon bits
Instructions
Preheat the oven to 350˚F. Spray a baking sheet with cooking spray.
Clean the mushrooms with a damp paper towel. Carefully break off the stems and chop them extremely fine, discarding the tough ends.
Heat the oil in a large skillet over medium heat. Add the garlic and mushroom stems and sauté until soft, about 2 minutes. Remove from the heat and let cool in a small bowl.
When the garlic mixture has cooled, add the "cream cheese," pepper, onion powder, cayenne pepper, and soy bacon bits and stir until blended.
Fill each mushroom cap with a generous amount of stuffing. Arrange the mushroom caps on the prepared cookie sheet and bake for 20 minutes.
Makes 12 servings