Vegan
SolFood Vegan's Spicy Fried 'Chicken'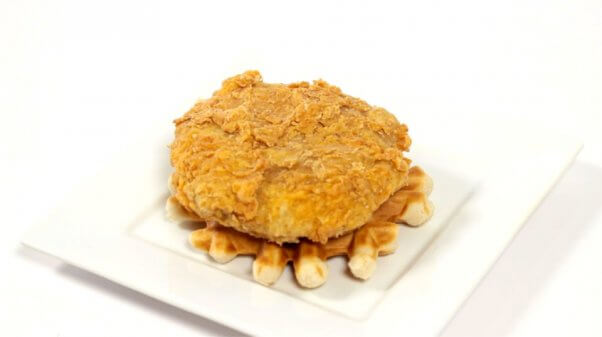 Print
Ingredients
2 cups

wheat gluten

5 Tbsp.

nutritional yeast

3 tsp.

onion powder

2 tsp.

salt

1 tsp.

poultry seasoning

5 Tbsp.

tahini

1/2 + 1/3 cup

hot sauce

6 cups

vegetable broth

2–3 cups

white flour

1 tsp.

garlic powder

1/2 tsp.

cayenne pepper

1/4 tsp.

chipotle powder

3/4 tsp.

white pepper

1/4 tsp.

paprika

Egg replacer equivalent of 3 eggs (Namaste brand works well)

1 Tbsp.

yellow mustard

Vegetable oil, for frying
Instructions
In a large mixing bowl, add the wheat gluten, nutritional yeast, 2 teaspoonfuls of onion powder, 1 teaspoonful of salt, and the poultry seasoning and mix together until well combined.
In a separate bowl, whisk together the tahini, 1/2 cup hot sauce, and 1 cup vegetable broth.
Add the wet mixture to the dry mixture and stir until a thick dough forms, then knead with your hands for 2 to 4 minutes. It should be somewhat elastic. You may need to add more wheat gluten if it's too wet.
Divide into 10 equal pieces and shape into patties.
Pour the remaining vegetable broth, enough to just cover the patties, into a large pot and bring to a boil.
Add the patties and boil for 45 minutes to 1 hour, then drain. Set aside to cool or run under cold water until cool enough to work with.
In a medium-size bowl, add the remaining onion powder, remaining salt, flour, garlic powder, cayenne pepper, chipotle powder, white pepper, and paprika and mix until well combined.
In a separate bowl, whisk together the remaining hot sauce, vegan egg replacer, and mustard.
Heat the oil in a deep fryer or large pot over medium-high heat. Coat one patty in the flour mixture, then dip in the "egg" mixture. Let the excess liquid drip off before placing back in the flour mixture. Gently roll in the flour mixture until evenly coated. Repeat with the remaining patties.
Place 2 to 4 patties in the oil. Cook for 2 to 3 minutes, or until golden brown. Place on a paper towel–lined plate. Repeat with the remaining patties.
Makes 10 fried seitan patties
For more delicious recipes and inspiration from Aaron Parker of SolFood Vegan, visit his website, Instagram, and Facebook pages.
[peta-video youtube="En5YRw2JjW8″]