Vegan
Teriyaki Chicken Sushi Burrito (Vegan)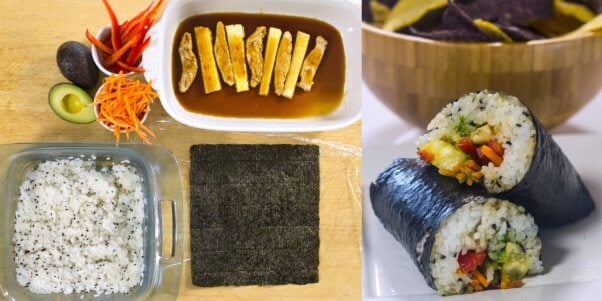 Print
Ingredients
1 cup

sushi rice

1/4 cup

rice vinegar

1/4 cup

sugar

1 tsp.

salt

1 tsp.

vegetable oil

2 tsp.

sesame seeds, optional

2–3

thin pineapple spears

1 pkg.

vegan chicken strips

1 cup

teriyaki sauce

1 sheet

nori

1/2

carrot, thinly sliced

1/4

red bell pepper, thinly sliced
Instructions
Cook the rice according to the package directions. Add the vinegar, sugar, salt, vegetable oil, and sesame seeds and mix. Let cool for at least 30 minutes.
Place the pineapple spears and vegan chicken in shallow dish and pour the teriyaki sauce over them. Set aside to marinate.
Place the sheet of nori lengthwise, with the dull side up, on a sushi rolling mat or piece of plastic wrap. Cover the entire sheet, except for a 1-inch strip at the top, with a layer of rice.
Lay the pineapple, vegan chicken, carrots, bell pepper, and avocado in a line across the middle of the sheet. Carefully roll the sheet from the bottom. Moisten the strip of nori at the top with water and seal the roll together.
Cut in half and serve with tortilla chips. 
Makes 1 sushi burrito
[peta-video youtube="9LMJC9d1sHA"]