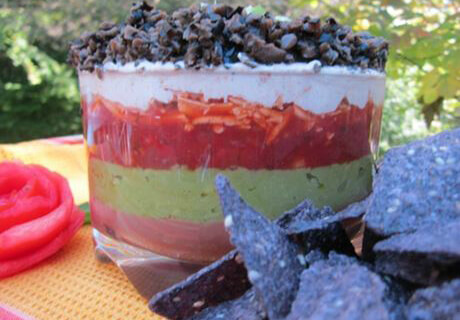 1 8-oz. pkg. Tofutti Better Than Cream Cheese
1 Tbsp. taco seasoning mix
1 cup guacamole
1 cup chunky salsa
1 cup shredded lettuce
1 cup shredded soy cheddar cheese
½ cup green onions, chopped
2 Tbsp. sliced pitted ripe olives
• Mix the "cream cheese" and taco seasoning. Spread onto the bottom of a 9-inch pie plate or other dish.
• Layer the guacamole, salsa, lettuce, soy cheese, green onions, and olives over the "cream cheese" mixture. Cover and refrigerate for a least 1 hour.
• Serve with tortilla chips.
Makes 6 to 8 servings