Vegan
Seitan à la Normandie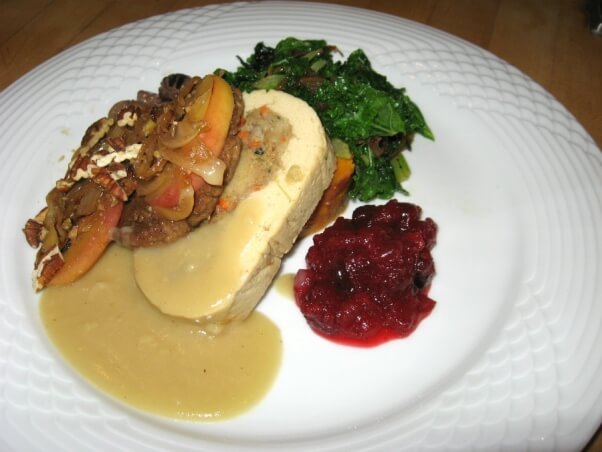 Print
Ingredients
2 Tbsp.

sunflower oil or other oil of your choice, plus more for frying

4 cups

sliced onions

2 Tbsp.

minced garlic

6 Tbsp.

tamari

4 Tbsp.

apple juice concentrate

1 cup

water, plus more for frying

3

medium apples, peeled, cored, and thinly sliced

2 Tbsp.

calvados or other apple brandy of your choice (or an additional 1 Tbsp. apple juice concentrate)

1/2 cup

roasted pecans, ground (optional) (the dish is more delicate without it)
Instructions
Preheat the oven to 300°F.
Fry the seitan in hot oil in a frying pan until lightly browned, then simmer in a little water for about 30 minutes before using. (Note: If you don't simmer the seitan first, you may need to add more liquid to the recipe.) Set aside.
In a separate smaller skillet, sauté the onions and garlic in the 2 tablespoonfuls of oil until the onions are soft and translucent but not fully cooked.
Place the seitan in an ovenproof 2-quart baking dish and cover with the tamari, apple juice concentrate, and 1 cup of water. Top with the sautéed onion mixture.
Fan the apples over the onions and pour the calvados on top. Sprinkle with the ground pecans, if desired. Cover the dish with a tight-fitting lid or aluminum foil and bake for 1 hour. Serve hot.
Makes 4 servings
This recipe was adapted with permission from The Classical Vegetarian Cookbook by Ron Pickarski.