Vegan
Bulgur Walnut Loaf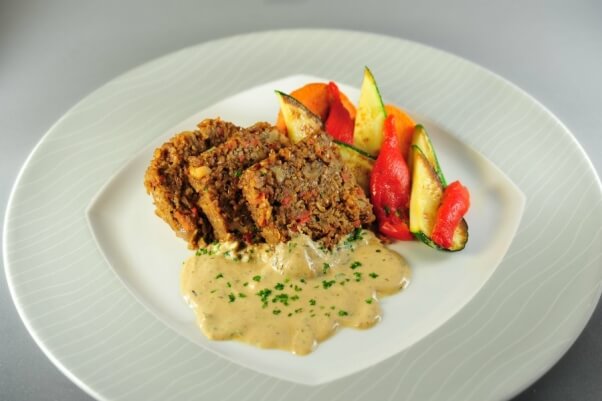 Print
Ingredients
3 cups

water

1 1/2 cups

bulgur

1 1/2 cups

finely diced onions

3 cloves

garlic, minced

1 1/2 cups

peeled and shredded carrots

1 Tbsp.

unrefined corn oil or canola oil

6 Tbsp.

barley miso

1 1/4 tsp.

powdered thyme

1 cup

roasted, coarsely chopped walnuts

1/4 cup

roasted sunflower seeds

1/2 cup

vital gluten flour

1/2 cup

whole-wheat or white flour
Instructions
Preheat the oven to 350°F.
Bring the water to a boil in a medium saucepan. Add the bulgur and let simmer for 5 minutes, or just long enough to absorb the water in the pot. The bulgur must be cooked and dry.
In a large frying pan, sauté the onions, garlic, and carrots in the oil until the onions are translucent. Add the miso and thyme and stir until the miso dissolves. Add the walnuts and sunflower seeds and stir until evenly dispersed.
Combine the gluten and whole-wheat flours in a small bowl and stir until well mixed.
Add the cooked bulgur to the sautéed vegetable mixture and stir until well combined. Sprinkle with the flour mixture and stir until blended evenly.
Oil a loaf pan. Press the mixture into the pan. Cover and bake for 50 to 60 minutes. Remove from the oven and allow to cool in the pan for about 5 minutes, then remove from the pan and allow to cool for 30 minutes.
Makes 8 servings (1 loaf)
This recipe was adapted with permission from The Classical Vegetarian Cookbook by Ron Pickarski.