Vegan
Root-Vegetable Fritters with Green Lentils and Fig Chutney (Gluten-Free)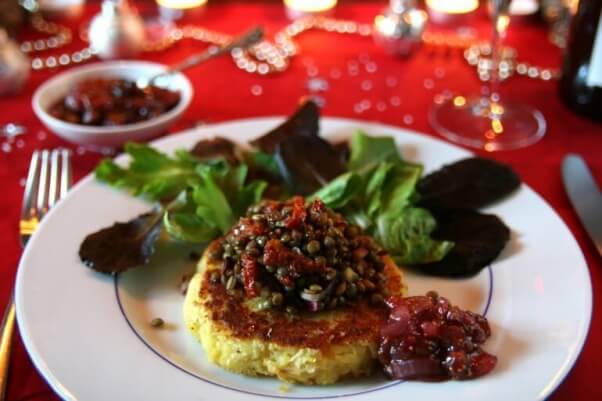 Print
Ingredients
For the Fritters:
3 cups

potatoes peeled and cut into 1-inch square chunks

1/2 cup

vegan cream

2 Tbsp.

vegan margarine

Olive oil for frying

2 cups

parsnips, peeled and coarsely grated

1 cup

celery root, peeled and coarsely grated

Salt and pepper, to taste
For the Green Lentils:
3 cups

water

1 cup

green lentils

1 Tbsp.

soy sauce

1 small

red onion, finely chopped

3

sun-dried tomatoes, drained and chopped
For the Fig Chutney:
1 1/4 cups

chopped ripe figs

1

small onion, finely chopped

3 Tbsp.

sugar

2 1/2 Tbsp.

vinegar (red wine or cider)

2 Tbsp.

water

1 1/2 Tbsp.

raisins

1/2 tsp.

salt

1/2 tsp.

ground coriander

1/2 tsp.

ground ginger
Instructions
In a large pot, boil the potato chunks in water until tender. Drain and return to the pot. Add the vegan cream and margarine and mash. Set aside to cool.
Pour a generous splash of olive oil into a frying pan and gently fry the grated parsnips and celery root until lightly browned. Add to the potatoes, along with salt and pepper to taste, and mix well.
With your hands, form eight round, flat fritters.
Heat some more olive oil in a large frying pan. Fry the fritters until one side is golden and crispy. Using a spatula, gently lift and turn each fritter over. Fry the other side and gently place on a paper towel.
Add the water and lentils to a large saucepan. Bring to a boil. Cover, reduce the heat, and simmer until tender, about 25 minutes. Drain and return to the saucepan.
Add the remaining green lentil ingredients. Cook together for 10 minutes over medium heat. Set aside.
Put all of the fig chutney ingredients in a medium-sized saucepan. Heat gently until the sugar dissolves, stirring frequently.
Simmer over low heat until the mixture thickens and becomes darker, about 40 minutes.
Spoon into a bowl and leave to cool.
To Serve:
Place a hot fritter on a plate and top with the warm lentil mixture and chutney.
Makes 4 servings